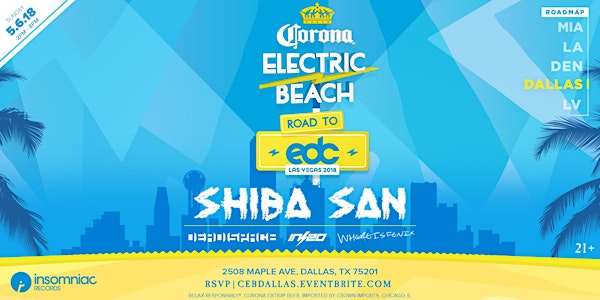 Corona Electric Beach "Road to EDC LV" in Dallas
When and where
Location
2508 Maple Ave 2508 Maple Avenue Dallas, TX 75201
Description
I acknowledge that I am at least 21 years of age and will bring a valid photo ID with me to the event to verify and understand entry is based on venue capacity upon arrival.
Permission to Use Photograph & Video Subject: Corona Electric Beach
Location: Dallas, Texas (5
/6/18
)
I grant to Constellation Brands, its representatives and employees the right to take photographs and videos of me and my property in connection with the above-identified subject. I authorize Constellation Brands, its assigns and transferees to copyright, use and publish the same in print and/or electronically.
I agree that Constellation Brands may use such photographs and videos of me with or without my name and for any lawful purpose, including for example such purposes as publicity, illustration, advertising, and Web content. Constellation Brands may use the photograph and video with or without alteration, individually or in conjunction with other images or elements. The rights and permissions I grant in this release are irrevocable, perpetual and worldwide. I represent and warrant that I am 21 years of age or older and will provide Constellation Brands or its designees with government issued identification upon request.
By agreeing this form, and for goodwill and publicity received, I acknowledge that I have completely read and fully understand the above release and agree to be bound thereby. I hereby waive and release any and all claims that I may now, or in the future, have against Constellation Brands, or its designees against any person or organization utilizing this material for any lawful purpose. I acknowledge that Constellation Brands has no financial commitment or obligation to me as a result of this release and Constellation Brands is not obligated to make any use of the rights I have granted.