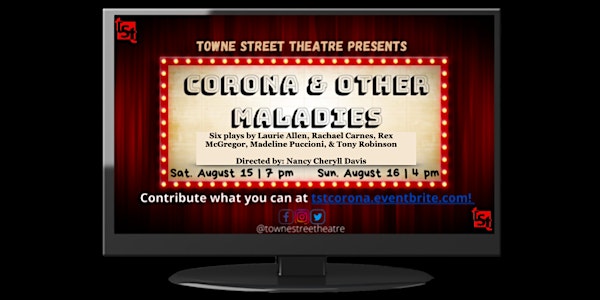 Corona and Other Maladies: A TST Virtual Salon Zoom Play
Towne Street Theatre presents: Corona and Other Maladies. This event is a part of the TST Virtual Summer Series via the TST Virtual Salon!
Refund Policy
Contact the organizer to request a refund.
Eventbrite's fee is nonrefundable.
About this event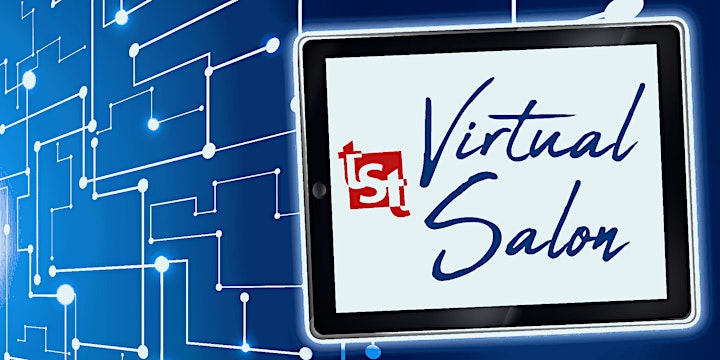 Six short ZOOM plays will be performed by the TST Acting Company on Saturday August 15 a 7 pm and August 16 at 4 pm.
The Birds are Feeding Me by Rex McGregor
A Banker working at home in his apartment wants to stop a neighbor from feeding sparrows on her balcony. But he may end doing far more good than he imagines.
Cast: RJ Wayne, Kira Hoag and Liz Rowe
Coming to You Live by Laurie Allen
Jade, a social media influencer, tries to juggle her livestream to her followers as her husband, Chad juggles talking around the livestream. Can this couple handle constantly being around each other in the age of quarantine?
Cast: Samantha Clay, Andy Cudzilo
The Virus You Know by Tony Robinson
Colleen Campbell is locked in, locked down, armed with high-octane disinfectant, and she's willing to report anyone who isn't social-distancing. Unless Covid-19 comes through the television, she has all her bases covered. Or, does she?
Cast: Carolyn Middleton, Jacqueline Castañada, Teressa Taylor, Paul Hunt
Intermolecular Forces by Rachael Carnes
A mom tries (and mostly fails) to do it all: Work, family, more family, squirrels and more. Who knew that the end of the world would be so... BUSY?
Cast: Starina Johnson
Zoombies by Madeline Puccioni
What if the living dead walk amongst us? And what if... the Secretary of Education... Betsy DeVos..... is one of the Walking Zooming Dead?
Cast: Daphne Jones, Akshaya Pattanayak, Colette Rosario, Justin Gubersky, Karen Therese Law
Nothing Good Happens After Midnight by Laurie Allen
Quarantine and wedding planning does not aways mix well. Savannah's poor attempt a hair dressing and a bad reaction from her parents may jeopardize the festivities. The question is, what does the groom think?
Cast: Melissa Kay Anderson, Michelle Tannen, Twon Pope and Rich Fullman
Production Team
Directed by TST Artistic Director: Nancy Cheryll Davis.
Produced by:
Nancy Cheryll Davis Nancy Renee Kristina Roth Teressa Taylor Maimouna Camara.