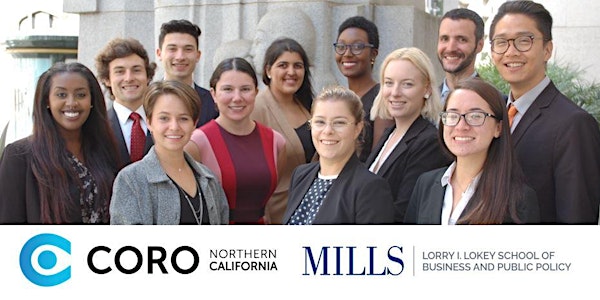 Coro/Mills College Partnership Celebration and Coro Fellow Reunion!
Event Information
Location
Mills College
Lorry I. Lokey School of Business and Public Policy
5000 MacArthur Boulevard
Oakland, CA 94613
Description
Join us for a Coro Fellow/Alumni Reunion & Mills College Partnership Kickoff Party, in celebration of the new partnership between the Lokey School of Business and Public Policy at Mills College and Coro Fellows Program in Public Affairs.
Fellows from any center and any year are welcome to attend!
Refreshments provided.
This is a FREE event but registration is required.
*****
DID YOU KNOW? As a Coro Fellow, you are now eligible to be automatically enrolled into several graduate programs at Mills College, including our flagship MBA and MPP programs, one-year Master of Management Program, and a highly innovative joint MPP/MBA Program.
*****
Getting to Mills: Mills College is located immediately off of Highway 580 in Oakland at the junction of 580 (MacArthur Freeway) and Highway 13 (Warren Freeway), approximately seven miles from the San Francisco-Oakland Bay Bridge. You can call 510.430.3250 for recorded directions, or enter the following address into your GPS: 5000 MacArthur Blvd., Oakland, CA, 94613. See parking instructions on the next page.
Getting to the Lokey School (GSB) Building: The entrance road onto campus is called Richards Rd. As it approaches the middle of campus, Richards Rd ends in a "T." Our building (GSB) is the beautiful glass and concrete building immediately to the left when you reach the "T."
Date and time
Location
Mills College
Lorry I. Lokey School of Business and Public Policy
5000 MacArthur Boulevard
Oakland, CA 94613