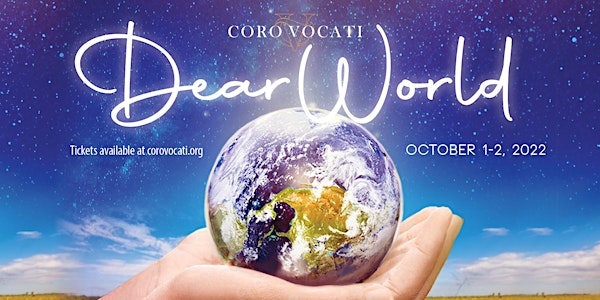 Coro Vocati presents "Dear World"
If you had one thing to tell the world, what would it be?
When and where
Location
Morningside Presbyterian Church 1411 N Morningside Dr NE Atlanta, GA 30306
About this event
An elementary school class was tasked with answering the question: "If I had one thing to tell the world, what would it be?" Their responses gave rise to "Dear World", a work written by a collection of composers at Louisiana State University, and the title piece of Coro Vocati's fall 2022 concert program. Inspired by the poem "This is my letter to the world" by Emily Dickinson, "Dear World" offers profound thoughts about caring for the Earth, creating a more peaceful world, and pursuing personal passions. Come join us as we explore the ideas put forth by these imaginative children, and consider what we would share with the world if given the chance.
This program will be performed twice, on Saturday, October 1 at 7pm at Morningside Presbyterian Church, and again on Sunday, October 2 at 2:30pm at Holy Innocents' Episcopal Church.
COVID-19 Information:
Coro Vocati is mindful of the risks associated with Covid-19 and its impact on our community. People who are at high risk for severe illness are encouraged to wear a fact mask covering the nose and mouth when attending Coro Vocati concerts. People with symptoms, a positive Covid test, or exposure to someone with Covid-19 should wear a mask if they choose to attend Coro Vocati concerts.
Covid-19 protocols are subject to change; we continue to monitor local, state, and federal policies regarding indoor activities and plan our safety protocols accordingly. Any changes to specific health and safety protocols will be clearly communicated to ticket holders in advance. Thank you for your support.
Program:
This is my letter to the world (Donald Grantham)
Dear World (Mikeila McQueston, Alana Scott, and Hannah Rice)
I got me flowers, from Five Mystical Songs (R. Vaughan Williams)
With a Lily In Your Hand, from Three Flower Songs (Eric Whitacre)
Go, Lovely Rose, from Three Flower Songs (Eric Whitacre)
For the Future (Andrew Maxfield)
My luv is like a red, red rose (Jim Clements)
Silent Noon (R. Vaughan Williams)
Chariots (Pieter Louis van Dijk)
Flanders Field (Paul Aitken)
Numbers (Shruthi Rajasekar)
The Call, from Five Mystical Songs (R. Vaughan Williams)
Tomorrow shall be my dancing day (John Gardner)
Flight Song (Kim André Arnesen)
Let all the world in ev'ry corner sing, from Five Mystical Songs (R. Vaughan Williams)
I Love You/What a Wonderful World (arr. Craig Hella Johnson)