CornerStone - Forum: Helping Young Adults Navigate the Journey to Adulthood
Sales Have Ended
Registrations are closed
Thank you for registering!
Sales Have Ended
Registrations are closed
Thank you for registering!
This forum engages emerging adults and subject-matter experts to discuss the critical obstacles faced during the emerging adulthood years.
About this Event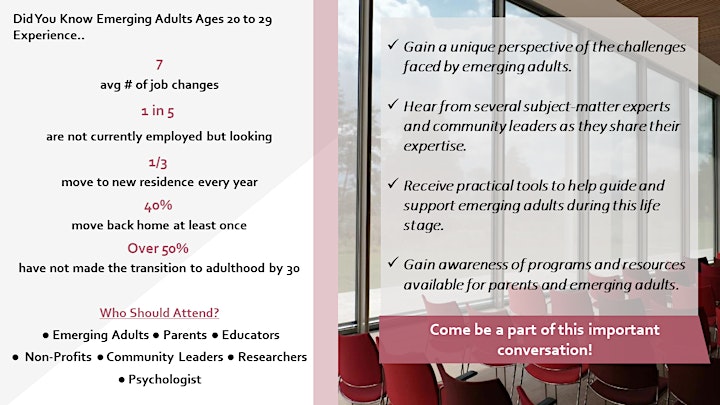 All are invited to attend, especially young adults in their 20's or 30's , parents of young adults, subject matter experts, or anyone else who wants to gain a better understanding of this life stage.
Emerging adults are in the most pivotal time of their lives and making a successful journey to adulthood means ..
Gaining your financial independence
Taking ownership of your life
Making wise independent decisions
This forum is specifically designed to provide awareness of the challenges faced during the emerging adulthood years, along with the practical tools to overcome them. In addition, it offers a much needed perspective of the underlying issues that can impact personal development during this critical life stage .
Topics Include:
Financial Matters - Employment, Credit, Student Debt, Housing (Moving Out and/or Back Home)
Social, Emotional, & Health Matters - Shift in Parent Relationship, Dealing with Anxiety, Personal Development, Professional Growth, Role of Self-Awareness/Reflection
Five Panelists Include: Emerging Adult, Educator, Community Leader, Researcher, and Psychologist.
This will be a powerful discussion you will not want miss!
Register Today!