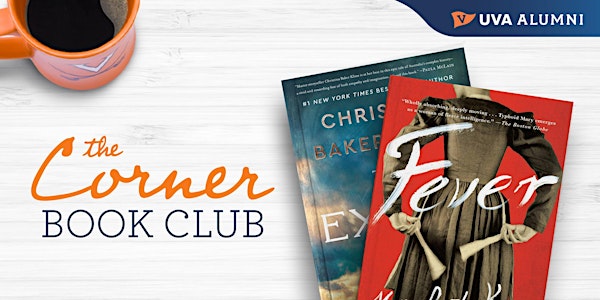 Corner Book Club Live Author Event with Mary Beth Keane
Corner Book Club Live Author Event with Mary Beth Keane
About this event
Join the UVA Alumni Association's Corner Book Club for a live, interactive discussion with New York Times bestselling author Mary Beth Keane (Grad '05).
Mary Beth Keane is the author of The Walking People, Ask Again Yes, and the Corner Book Club's current reading selection Fever a "spectacularly bold and intriguing novel about the woman known as 'Typhoid Mary,' the first person in America identified as a healthy carrier of Typhoid Fever."
Register to reserve your spot and submit questions you'd like to hear Mary Beth answer during the event.
About The Corner Book Club
Read along with fellow alums anytime, anywhere. The Alumni Association's virtual book club features a range of titles by UVA alumnae authors. Corner Book Club members have the opportunity to recommend titles, vote on reading selections throughout the year, connect on a private online forum, and participate in special virtual events with alumnae authors.
The Corner Book Club is reading Fever by alumna Mary Beth Keane (Grad '05) from January 7 – March 4. Sign up now to participate. You'll receive emails to guide your reading, access to the online forum for discussions with other book club members, relevant articles, and more.
This event is brought to you by the UVA Alumni Association and #open to all UVA alumni, parents, and friends.