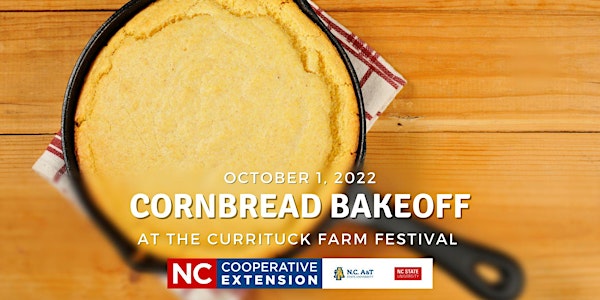 Cornbread Bake Off
Do you bake the best cornbread in Currituck? Well, let's find out!
About this event
Enter your cornbread in the Cornbread Bake-Off held during the Currituck Farm Festival from Noon - 4:00 on Oct. 1, 2022. Contest entries are being accepted for adults (18+) as well as three youth age groups (5-8, 9-13, & 14-18). And the best news of all, entry is FREE! Grand and Reserve will be awarded in each age group. All entries must complete the online entry form to be considered for judging. Entries must be submitted to the Currituck County Extension Office for judging by October the 1st at 1:00 pm. For more information or to request an entry form be mailed or emailed to you call (252) 232-2261 or email olivia_patchel@ncsu.edu.
If you need accommodations for persons with disabilities please contact Olivia Patchel at (252) 232-2261 or by email at olivia_patchel@ncsu.edu no later than 10 business days prior to the event.
Contest Rules and Judging
Who can enter: Anyone can enter the following categories - Adult (18 and up), Seniors (14-17), Juniors (9- 13), Cloverbuds (5-8)
Cornbread: Bring your favorite recipe to the bake-off and see if your version of this classic can take top honors. There are no specifications on ingredients; however, you will have to share your recipe with the judges.
Complete the Eventbrite entry form.
Prepare at least an 8-inch pan of cornbread for judges to taste.
Bring your cornbread and a printed copy of your recipe to the Currituck Farm Fest for judging by 1:00 pm.
Prizes: Grand and Reserve will be awarded in each category, along with bragging rights!
Judging: Judging will start at about 1:30 p.m. Cornbread will be judged by a panel of three judges on the following criteria: Taste, Appearance (includes presentation), Texture
Winners will be officially announced, from the stage, at the awards program at approximately 3 p.m.
Distribution of the cornbread: After the conclusion of the contest, slices of cornbread will be offered to the public.