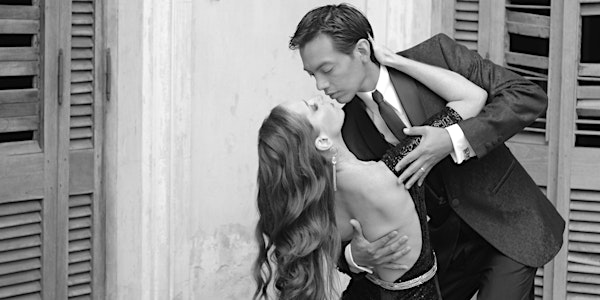 Cork Tango Celebrates 20th Birthday - Special Guests David & Kim Benitez
Location
P36 A660
Mall Arts Centre
Youghal
Ireland
A wonderful list of the classes and the milonga on the 20th anniversary of Cork Tango!
About this event
11am-12.30pm - "Coffee-Time Tango Café"
DJ Steven "Ducky" Day on the decks, bringing you a selection of tandas from the Golden Age of tango and his signature wild card tango nuevo tunes. Join us for a cup of coffee and warm up with lovely tandas for the day ahead.
12.30-2pm - Class no. 1. Caminata & Embrace.
David and Kim deconstruct and rebuild the all-essential tango walk to have you moving with correct technique, fluidity and beauty, and they reveal the secrets of a perfect embrace through connection and respiration. (Improver/intermediate)
2.30-4pm - Class no. 2. Dynamics & Cadence.
Set against a background of scintillating tunes, David and Kim explore contrasts in energy, tempo and rhythm, with techniques to transform the look and feel of your dance, and delight your partner. (Improver/intermediate)
4.30-6pm - Class no. 3. Softly Intertwining Legs.
Designed for experienced dancers, David and Kim immerse you in the processes of executing some of the more complex moves in tango with technical precision, elegance and texture. (Intermediate/Advanced)
8pm-1am - Cork Tango's 20th Birthday Party Milonga
DJ Enrique "Quique" Ringa and his playlist of carefully curated authentic tunes from the famous orchestras and tango singers of Buenos Aires. Also, prepare to be wowed at the breathtakingly beautiful performances of David and Kim Benitez!