Description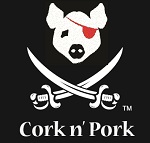 Treasure Island Wines is hosting the return of Cork-n-Pork on July 16th, 2016! This year, we will have a throw down style cooking competition between Jim the winemaker and a retired SFPD patrolman/chef Steve Caniglia, to determine who makes the best BBQ Ribs In San Francisco. You will get to try the ribs, a couple sides, paired with some great wines. Attendees will choose the winner, and who gets bragging rights, on who did the best job cooking the ribs. There will be new releases from Baker Family Wines and featured releases from Treasure Island Wines such as our 2015 Sauvignon Blanc, 2014 Pinot Noir and a 2014 Syrah.

Proceeds will benefit both the


Door Prizes will include a mini barrel (suitable for wine or spirits) from Recoop Barrels and invitation to a private BBL tasting! As always pets are welcome.