Sales Have Ended
Ticket sales have ended
Thank you for choosing to attend Cork's Autism Conference 2018 on Sunday September 30th at the Rochestown Hotel, Douglas, Cork. We look forward to meeting you there. Please arrive between 8am and 8.45am for registration as we will be commencing at 9am SHARP. Follow us on Facebook here: www.facebook.com/corkasd Or follow us on Twitter here: www.twitter.com/ckautism
Sales Have Ended
Ticket sales have ended
Thank you for choosing to attend Cork's Autism Conference 2018 on Sunday September 30th at the Rochestown Hotel, Douglas, Cork. We look forward to meeting you there. Please arrive between 8am and 8.45am for registration as we will be commencing at 9am SHARP. Follow us on Facebook here: www.facebook.com/corkasd Or follow us on Twitter here: www.twitter.com/ckautism
Description
Nearly SOLD OUT + ONLY 5 Places left & 2 days to go!
CORK AUTISM CONFERENCE 2018 ~ Re-Thinking Autism: A Positive and Integrative Approach
Parents, healthcare professionals and educators from across Ireland will assemble in Cork on Sunday September 30th for Cork's Autism Conference between 8.30am and 5.30pm.
The program includes talks and discussions from healthcare practitioners, specialists and spokespersons in autism and aspergers syndrome.
At the 2018 Cork Autism Conference you will:
✓ Obtain an Empowering and Positive Perspective of Autism and ASD
✓ Access Practical, Resources and Approaches to Empower people with Autism and Aspergers.
✓ Learn Interventions, Skills and Strategies to Support People with Autism be Successful
✓ Awaken The Power of Beliefs and Believing in Responding and Relating with People with Autism
✓ Gain Approaches to Develop Healthy & Empowering Relationships with People with ASD
✓ Receive Effective Approaches to Support People with Autism Sensory Integration Needs
✓ Discover Actionable Insights and Wisdom from a Person with Autism to Help Individuals with Autism and Aspergers Syndrome
✓ Grow Your Support Network
This conference will address approaches to issues from first diagnosis, early intervention to adulthood.
The event provides a unique forum for parents, families, caregivers, adults with ASD, employers, educators, professionals, agencies, advocates and anyone with an interest in autism and Aspergers Syndrome.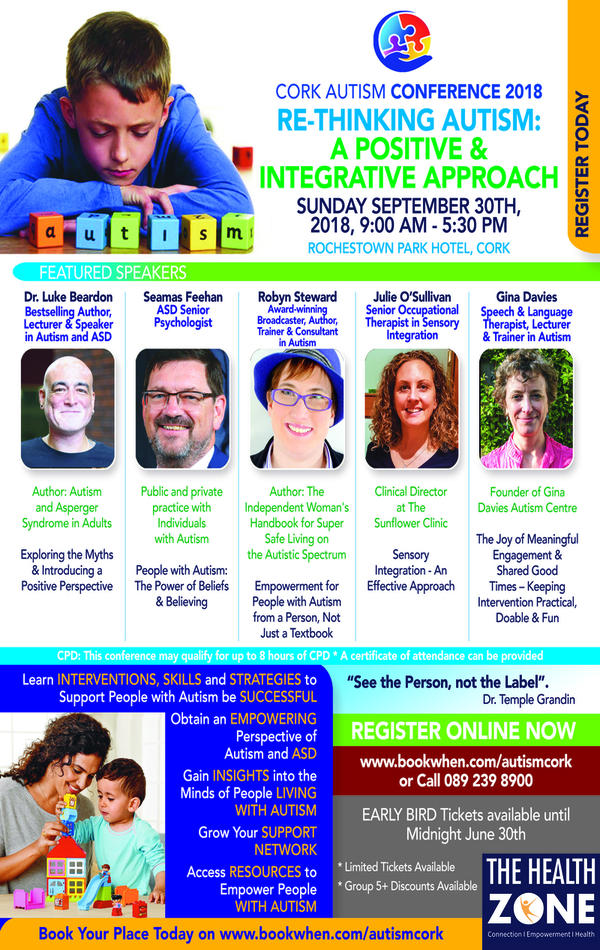 Speakers at this year's Cork Autism Conference include:
⭐ Award-winning Broadcaster, Author, Trainer & Consultant in Autism, Robyn Steward - Author: The Independent Woman's Handbook for Super Safe Living on the Autistic Spectrum
Talk Title ~ Empowerment for People with Autism from a Person, Not Just a Textbook
⭐ Bestselling Author, Lecturer & Speaker in Autism and ASD, Dr. Luke Beardon - Author: Autism and Asperger Syndrome in Adults
Talk Title ~ Exploring the Myths and Introducing a Positive Perspective
⭐ Speech & Language Therapist, Lecturer and Trainer specialising in Autism & ASD, Gina Davies - Founder of Gina Davies Autism Centre
Talk Title ~ The Joy of Meaningful Engagement & Shared Good Times – Keeping Intervention Practical, Doable & Fun
⭐ ASD Senior Psychologist, Seamas Feehan - Public and private practice with Individuals with Autism
Talk Title ~ People with Autism: The Power of Beliefs and Believing
⭐ Senior Occupational Therapist in Sensory Integration, Julie O'Sullivan - Clinical Director at The Sunflower Clinic
Talk Title ~ Sensory Integration - An Effective Approach
This is a unique opportunity designed to collaboratively educate and inform individuals, families and practitioners.
"Our intention is that individuals, families and healthcare providers who attend this conference, gain practical and actionable insights, knowledge and skills to best support and empower people experiencing autism or aspergers syndrome" ~ Cork Autism Conference
Venue: Rochestown Park Hotel, Douglas, Cork
Date: September 30th, from 8.30am until 5.30pm
"I loved the Cork Autism Conference because it was practical, very positive and there was a great variety of speakers. I learned so much that day, especially listening to people who have autism. It has taught me that there is hope. They talked about ways around their difficulties.
I learned to listen, to see the world from the person with autism's perspective and that continuity with therapists matters greatly. I have told all the parents I met on HSE courses that it is a very intense day but time and money very well spent. It was very inspiring and it gave me hope. It was well worth the trek from Dublin and I have already booked for this year."
- Ciara Dwyer, Parent and Sunday Independent Journalist
"The 2017 Cork Autism Conference was the best conference I attended in the area of autism for a very long time. I gained a more in depth understanding of the challenges families and children with autism face and the possibilities there are to turn these challenges into the opportunities and make society a more enriched, inclusive, diverse and equitable place to live.
The Conference provided me with a much-needed opportunity to gain insights, wisdom and tools that will make the lives of those with autism and their families so much better. The solution-focused approach and celebration of autism as a difference that enriches all of our lives, is the reason I am returning again this year"
- Dr. Emer Ring, Head of Department of Reflective Pedagogy and Early Childhood Studies, Mary Immaculate College, Limerick and co-editor of Autism from the Inside Out; A Handbook for Parents, Early Childhood, Primary, Post-Primary and Special School Settings - available at this year's Cork Autism Conference
"I found the conference beneficial, practical and inspiring on so many levels. The speakers spoke across a range of highly relevant aspects of ASD providing many useful practical tools and instilling hope across the audience.
From a personal and a professional point of view, I will certainly be able to apply some of the key learnings from the day itself. It was an enormously beneficial use of my time in spending a day at such an excellent event."
- Avril Quinn, Parent, HR Consultant
"Well done to all involved in the 2017 Cork Autism Conference. Speakers were excellent. Knowledge is power. Lots of excellent ideas given, to empower me to help my son."
- Marie Looney, Parent, Cork Autism Conference 2017 Delegate
2 People ONLY €207 (Regular Rate €218)
3 People ONLY €299 (Regular Rate €327)
✓ Includes Lunch, Tea/Coffee & Delegate Pack
✓ This conference may qualify for up to 8 hours CPD
✓ A certificate of attendance can be provided
Limited Tickets Available
Late/On-Site from Sept 23rd - €129 / Person
- THIS IS A TICKET ONLY EVENT.
- TICKETS ARE BEING SOLD ON A FIRST COME, FIRST SERVED BASIS.
Don't miss out on this very SPECIAL conference.
Note: For anybody unable to book online or wishes to avoid booking fees, please drop us an email on autismcork@gmail.com and we can arrange an alternative or call us on 089 239 8900
Limited Places Available * Pre-book only