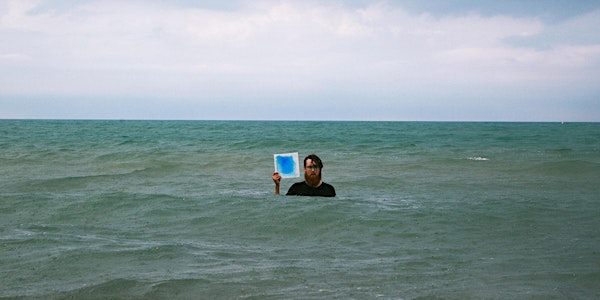 Corey D. Smith, "MIDWAY—A Performance Lecture"
Plenary performance of new musical work commissioned for the Fall 2022 Myers Foundations Symposium
When and where
Location
Arizona Biltmore, A Waldorf Astoria Resort 2400 East Missouri Avenue Phoenix, AZ 85016
About this event
About the Performance:
How do we imagine the future relics of our present? In "MIDWAY - A Performance Lecture," the Chicago-based composer, writer, and performance artist Corey D. Smith turns to the spectral afterlives of Frank Lloyd Wright's architecture to begin answering this question.
In it, Smith evokes Wright's Midway Gardens, the architect's once-famed concert venue built in Chicago's Hyde Park neighborhood that was demolished in the wake of the 1918 Pandemic. Engaging two "Sprite" statues Wright designed for the Midway now located in the hotel gardens of the Arizona Biltmore, Smith will mobilize his multi-instrumental and spoken word practice to imagine new possibilities for "form" in the wake of the ongoing COVID-19 pandemic.
About the performer:
Corey Smith (b. 1992, Temperance, Michigan) is a composer, writer, and performer based in Chicago, Illinois. He works in a hybridized performance style — a synthesis of original music, text, and movement. He is a 2017 and 2018 grantee of the City of Chicago's Individual Artist Program as well as a 2018 recipient of an Emergency Grant from the Foundation for Contemporary Arts. Corey has been an artist in residence at Light Box Detroit, the Tallgrass Prairie National Preserve, the Iowa Lakeside Laboratory, and Grin City. His work has been seen at Links Hall, the Detroit Fringe Festival, Frank Lloyd Wright's Emil Bach House, and numerous venues around the USA. His longstanding project, The New Prairie School, has been featured by Architectural Digest.
Corey is an avid collaborator and has worked in various capacities as sound designer, assistant director, performer, composer, and/or devisor for artists such as Every House Has a Door, Rough House Puppet Theater Company, the Suburban Piano Quartet, director Lindsey Barlag-Thornton, and many others. Most recent collaborative credits include works seen at the Bath Fringe Festival, Defibrillator Gallery, Co-Prosperity Sphere, the McCormick Bridgehouse and Chicago River Museum, and Roman Susan.
Corey MFA in Performance at the School of the Art Institute of Chicago. He completed his undergraduate degree at the University of Michigan, where he studied under Kristin Kuster, Bright Sheng, Evan Chambers, Erik Santos, and Holly Hughes. He is a collaborator, a friend, a proud midwesterner.
About the Symposium:
"Never Not in Crisis: Forms of Calamity in Catastrophic Times" is a bi-institutional symposium funded by the Myers Foundations , hosted by the Institute for Humanities Research, at ASU, and the Department of Art History, at Northwestern University, and aims to contribute to the creation of new critical and creative tools to grapple with our critical present.
The symposium is co-organized by Dr. Jacob Leveton, Program Coordinator of the Institute for Humanities Research, and Tamar Kharatishvili, Ph.D. Candidate in the Department of Art History at Northwestern.
In-person attendance at the Arizona Biltmore Resort Garden will be limited to 12 registrants.
Links will be circulated to online attendees for the concert on Zoom the evening before the performance.
Event Contact: Jacob Leveton, Program Coordinator, Institute for Humanities Research
JLeveton@asu.edu