The Center for Open and REproducible Science is proud to present an all-day virtual event intended to kick off our newly established center
About this event
The Center for Open and REproducible Science is proud to present an all-day virtual event intended to kick off our newly established center and bring together the Stanford community to learn more about the Open Science movement! During this event, we will hear from an interdisciplinary lineup of keynote speakers, discuss the current state of open science at Stanford, examine particular issues of open science, and present our Open Science Champion and Open Science Innovator awards.
In the afternoon, we will be hosting breakout sessions to further discuss topics such as: open science resources, our OpenByDesign handbook, or particular open science issues. More information will be released closer to the event.
When: February 18, 2021
Time: 9:00 am - 4:30 pm (pacific time)
Where: Please RSVP above for the event link. Meeting links will be sent out 2 days before the event.
This event is limited to the Stanford community. We are planning to open up our subsequent events.
Please feel free to email Franklin (ffein@stanford.edu) with any questions!
See you there!
Center for Open and REproducible Science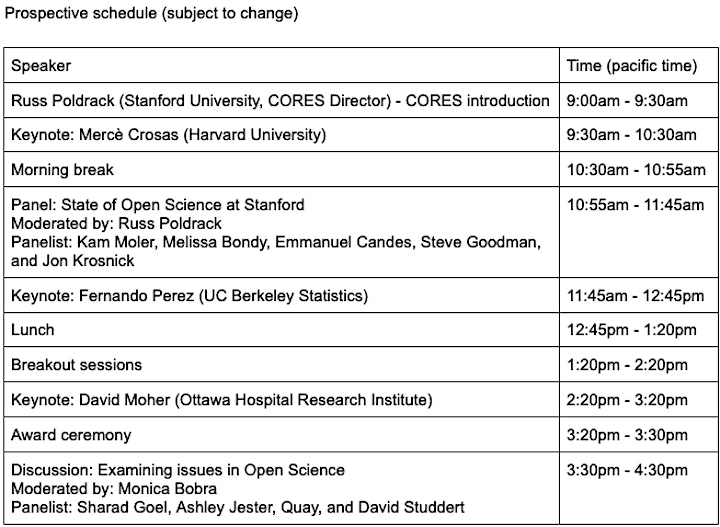 Organizer of CORES Launch Event
The Stanford Data Science Institute's Center for Open and REproducible Science (SDS-CORES) aims to develop and nurture transparency and reproducibility in the collection, analysis, and dissemination of data across all domains of scientific activity. The Center will focus on two core objectives. The first is to develop resources and support activities that promote the adoption of open science practices at Stanford and beyond. The second is to foster methodological innovations that can enhance the adoption and effectiveness of open science practices.