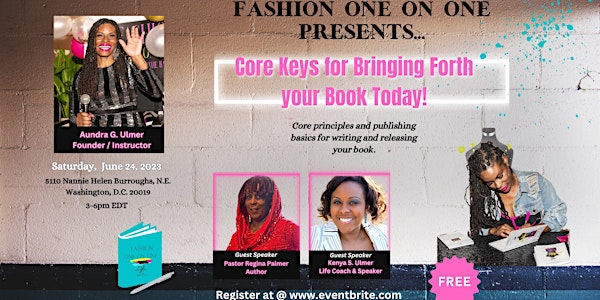 Core Keys for Releasing your Book Today!
Learn core principles, writing, and publishing basics for releasing your book today!
Date and time
Saturday, June 24 · 3 - 6pm EDT
Location
House of Praise 5110 Nannie Helen Burroughs Avenue Northeast Washington, DC 20019
About this event
Fashion One on One Presents "Core Keys to releasing your book today!" Calling all inspiring authors! Has God given you a book but you don't know where to start? Have you started but now feel stuck? Or maybe you need to know how to wrap things up. If so, this workshop is for you! Gain core knowledge, core principles, and the understanding needed to bring forth your book today! This workshop will also include guest speakers to encourage and jump-start your endeavors.
Fashion One on One is a movement and transformational Network laced with learning and fun, but most importantly centered on the Word of God from Jeremiah 1:5 "Before I formed you in the womb I knew you before you were born I set you apart; I appointed you as a prophet to the nations."
As a former luxury business manager with an over 16-year career with high-fashion work experience and training, Aundra has a burden to use these skills infused with the Word of God to equip, empower, and position women for the plan, purpose, and call God has for their lives. As a result, a fresh perspective is given that propels them with the confidence and insight needed to take dominion over the assignment, sphere, and region God has called them.
Aundra is the author of Fashion One on One: Back to Basics, A guide to help bring forth your best self every single day and What's At Your Core? Are You Fashioned One on One? Fashion One on One is a guide that elevates the lives and wardrobes of women by eliminating hazardous habits and practices while implementing essential keys and must-haves. What's At Your Core? is a blueprint that navigates individuals in the direction of the purpose that God has for their life. Lastly, "Core Keys to Ace the Interview" training course has turned into a book! This installment has a proven curated system to trade the guessing out of the interview process into showing up in confidence to obtain the position you desire.
Fashion One on One's statement apparel, including top sellers, "I'm Rocking My Best Self" and "She's Kingdom and Couture" has caused an awakening and opportunity for women all across the globe to make an exclusive statement in knowing who they are and Whose they are! Aundra is also the creator of a catalog of professional and development courses such as "Core Keys to Ace the Interview" & "7 Core Essentials" that help position and enrich the lives of women. Aundra's million-dollar eye for putting stellar looks together in as little as 15 minutes has caused a fashion awakening among clients and onlookers.
Aundra has appeared on DCTV's Style Access, Tears to Purpose Real Talk, and was the wardrobe consultant for the small black film "Why Didn't I Listen." She was also a fashion expert panelist for the event "Key Secrets To Becoming a Media Mogul'' sponsored by Sirius XM. Aundra resides in Washington, D.C. with her three children where she serves in ministry at the House of Praise under the direction of Apostle Stephen E. Young Sr. General Overseer.