Corazon Tango presents traditional and contemporary Argentine tango pieces arranged by world-renowned maestros from the mid-20th century.
About this event
Date & Time: Saturday December 14, 7:30 p.m.
Venue: Incarnation Episcopal Church, 1750 29th Avenue, San Francisco
Tickets: $25 General, $20 Seniors, $15 Students
For more information https://sunsetarts.wordpress.com/corazon-tango/
Program
Corazon Tango presents traditional and contemporary Argentine tango pieces arranged by world-renowned maestros from the mid-twentieth century to the present. The program will include a variety of solo, duo, trio, and quartet arrangements.
About the Artists
Main members of Corazon Tango were all born in S. Korea, however they spent their early adulthood in 3 separate cities such as San Francisco (Sumi Lee, Pianist), Buenos Aires (Hanel Yeon, Bandoneonist) and Seoul (YoonHo Jeong, Bassist). Love of Tango music put them together in Buenos Aires through one of the most prestigious & competitive Tango orchestra schools in the world, "La orquesta escuela de tango, Emilio Balcarce" in 2017. Since then the rest is history. They all have very similar tango training, theater performance track records in Buenos Aires under the same maestros who taught them everything about Argentine Tango such as Maestro Victor Lavallen (Pugliese's Bandoneonist & Arranger), Maestro Roberto Alvarez (Pugliese & Color Tango), Maestro Jose Colangeolo (Anibal Troilo's pianist) and many more.
Argentine Tango Music changed their lives profoundly. Their desire to study and perform Tango music, made them to move and live in Buenos Aires for years to a decade. After years of assimilation and absorbing the knowledge of Tango Music, they now want to share and give back to the people in their own communities and the world.
Their founding members are three, however, they often invite local and visiting artists to collaborate as a Quartet, Quintet and etc. And, they are planning to perform throughout the state and Asia coming years.
Artists:
Sumi Lee – Piano
Hanel Yeon – Bandoneón
YoonHo Jeong – Contrabass
Abram Kim (Guest artist) – Violin
Maximiliano Larrea (Guest artist) – Guitar
Teresa Tam (Guest artist) – Vocals
Sumi Lee is a classically trained pianist who obtained a master's degree in music, piano performance, from San Francisco Conservatory of Music. She has also been professionally trained as a tango pianist from La Orquesta Escuela de Tango Emilio Balcarce, (Class of 2018), the most prestigious tango orchestra school in the world sponsored by the city government of Buenos Aires. Lee is a widely respected piano teacher and is on the Board of Directors for the San Francisco branch of Music Teachers' Association of California. While living in Buenos Aires, she performed with living maestros and musical directors such as Víctor Lavallén, Jose Pepe Colangelo, Osvaldo Piro, Roberto Alvarez, Daniel Binelli, Mauricio Marceli, Nicolas Ledesma, Pablo Estigarribia and many more. One of her past concerts at Teatro General San Martin in Buenos Aires was sold out to a large audience and aired live via national radio 2*4 and TV.
Since moving back to the Bay Area in 2019 after receiving her diploma, she has been performing authentic traditional and contemporary Argentine tango music with various groups including her own Corazón Tango. In October, 2019, She has toured Seoul, Daejeon and Busan, South Korea with Corazón Tango and plans to tour U.S. around the world in the near future. Meanwhile she has started writing her own music and producing her own contemporary tango music. http://www.sumilee.com
Hanel Yeon is well known bandoneonist, composer and arranger. She is a classically trained pianist who obtained a bachelor's degree in composition from Sookmyung Women's University in Seoul, and is a professionally trained tango bandoneonist from La Orquesta Escuela de Tango Emilio Balcarce, (class of 2016), Buenos Aires. She has studied with top bandoneon maestros such as Rodolfo Daluisio, Rodolfo Mederos, Federico Pereiro, and Dino Salouzi, as well as piano maestros Nicholas Ledesma, German Martinez, and Hernan Posetti. While living in Buenos Aires for 10 years, Yeon was a widely respected bandoneonist and tango pianist who has shared the stage with several living maestros at prestigious venues. She currently performs with the tango group Sciammarella as a bandoneonist and pianist. Her previous work includes performing as a pianist at the theater Tango Porteño from 2012-2019, as a bandoneonist with Sciamarella Group in the 2015 Tarbes en Tango Festival in France, and performing as a bandoneonist in the Buenos Aires Tango Festival and often with the group Romantica Milonguera. She has toured San Francisco, Seoul, Daejeon and Busan, South Korea with Corazón Tango in September and October 2019 and plans to tour Asia and around the world after she moves back to her home city, Seoul in Jan 2020.
YoonHo Jeong is a classically trained contrabassist and obtained a BA in Music from KyongWon University, S. Korea and also has been professionally trained and received a diploma as a tango bassist specialist from La Orquesta Escuela de Tango Emilio Balcarce in Buenos Aires. He has studied with top maestros such as Maestro Daniel Jose Luis Falasca, Patricio Cotella and Pablo Motta. He has performed in concerts throughout Argentina and South Korea, such as international tango festival Mundial 2017 and 2018. While living in Buenos Aires, Jeong also performed with La orquesta escuela de Tango, Emilio Balcarce at prestigious concert venues such as Kirchner Cultural Centre, Teatro General San Martin, Teatro Coliseo, Usina del Arte, Biblioteca Nacional, and Parque Centenario. And he was a bassist for Fulgor tango group and performed at various music venues in Buenos Aires. After receiving his diploma in 2018, he moved back to Seoul, South Korea, and is currently working with Shinai tango band in Seoul. He has toured San Francisco, Seoul, Daejeon and Busan, South Korea with Corazón Tango in September and October 2019 and plans to tour Asia and around the world with his colleague Hanel Yeon, Bandoneonist.
Ahram Kim was Born in Gwangju, South Korea and started playing violin at the age of five and continued her studies in classical music while also having passion and curiosity for different styles of popular and folk music from all over the world.
After graduating from university, she flew to Buenos Aires in 2009. There she received a diploma of orchestral studies of classical music from Instituto Superior del Teatro Colón, and in 2012 also graduated from Orquesta Escuela de Tango Emilio Balcarce. Between 2012-2017 Ahram played in the first violin section of Buenos Aires Philharmonic and has been working in operas too with Orquesta Estable del Teatro Colon as a guest artist.
She studied tango violin with Miguel Angel Bertero since 2011 and the effort to transfer the essence of tango music is still in process. She has played and recorded with many tango musicians in Argentina. She was the violin soloist in tango show 'Cátulo' and joined a tour of a tango performance 'Milonga' by Sidi Larbi Chercaoui as a solo violin since 2014.
Maximiliano Larrea is an accomplished guitarist, arranger, and composer from Rosario, Argentina, and is one of the leading interpreters of classical and contemporary guitar of the new tango generation. After completing a degree in classical guitar, he moved to Buenos Aires where he studied tango and folk music in the prestigious Manuel de Falla Conservatory under legendary guitarist Juan Falú, as well as tango arranging and composition from renowned masters Diego Schissi, Nicolas Ledesma, and Gabriel Senanes. In Argentina, Larrea worked as a guitarist, arranger, and director of multiple acclaimed tango and Argentine folk music groups including Cuartero Revirado, Quinteto Negro La Boca (Sony Argentina), Quinteto Clandestino, and Aires Trio. Most recently, he has been working as an arranger for the New Mexico-based quintet Q-Tango, performing with various tango bands in the Bay Area—such as Mariano Barreiro Quartet and Trio Larrea-ODay-Durso—and preparing the launch of his new musical project, Maximiliano Larrea Tango Trio.
Teresa Tam (voice) grew up playing violin in orchestras and singing in choirs since her childhood in Taiwan. While attending UC Davis as an undergrad, Teresa made her solo debut with the prestigious American Bach Soloists right here in the Bay Area performing the Magnificat in D Major BWV 243 by J.S. Bach. She has had the honor of performing as a soloist under the direction of conductors Jeffrey Thomas, Joshua Rifkin and more. After receiving her M.M. in vocal performance from Boston University, she then began collaborating in various duos with jazz guitarists and performed as a featured soloist with jazz bands around the Bay Area. As an avid Argentine Tango dancer, Teresa is beyond excited about her new voice and guitar duo with accomplished Argentine tango guitarist, arranger, and musical director Maxi Larrea (www.maxilarrea.com). Together, they are blending some of the most beautiful jazz and tango melodies with the harmonic complexity of these two rich genres to breathe new life into familiar songs. When she is not busy performing, she is crafting custom modern portraitures as a photographer for clients worldwide (www.teresatamstudio.com).
Extra note: When Pianist, Sumi Lee returned to Bay Area from Argentina, she realized that the public gets limited exposure to performing artists of diverse cultures, especially in the fields of non-popular music such as Argentine Tango, and musicians do not receive sufficient support unless they have established a name for themselves already. This problem can be further exacerbated if the artists performs a culturally unique genre that is yet to be known to the masses. She believes in cultural diversity and equal opportunity for all art forms, and she is enthused about supporting talented local and visiting guest artists from all around the world to provide local audiences with diverse music programs in high quality, live performances. She organize live tango music performances in Bay Area via Golden Gate Int'l Artists. Please like FB page https://www.facebook.com/ggiartists/ or subscribe www.ggiartists.com for the high quality upcoming tango concerts. GGIA is seeking for the sponsorships, pantrons and various kinds of support to lay the stage on which their creativity can be expressed and shared. Please contact them if you are interested in booking the artists and contributing to the organizations or groups.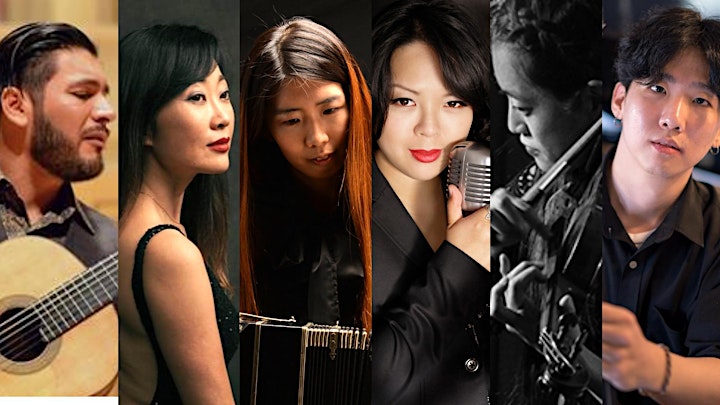 Organizer of Corazon Tango
The Episcopal Church of the Incarnation, San Francisco, is a welcoming, inclusive community where people come to be fed from the riches of God's love and grace. We live and share the Good News of Jesus Christ through worship, education, fellowship, pastoral care, and service to the world.
As a covenanted member of Oasis California, we commit ourselves to affirming lesbian, gay, bisexual, and transgender people and welcoming them into this Christian community.
The church is located in San Francisco's Sunset district, and worship services are normally offered in both English and Chinese. Our facility is wheelchair accessible, and assistive listening devices are available upon request.
We are a parish in the Diocese of California in the Episcopal Church, which, in turn, is a province of the worldwide Anglican Communion.
For more information visit http://www.incarnationsf.org/