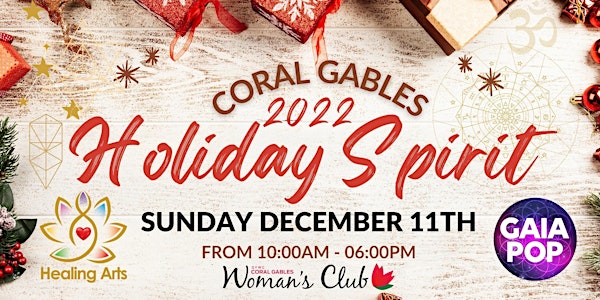 Coral Gables Holiday Spirit Holistic Festival Healing Arts at CG Woman Club
Coral Gables Holiday Spirit Holistic Festival 2022 by Healing Arts Expo at Coral Gables Woman's Club
When and where
Location
Coral Gables Woman's Club 1001 East Ponce De Leon Boulevard Coral Gables, FL 33134
About this event
We invite you to experience the sacred connection of our traditions, to be grateful for our existence, to enjoy our friends and family in a safe place in a space as beautiful and magical as the Coral Gables Woman Club.
Date: Sunday December 11th from 10:00am - 06:00pm Address: 1001 East Ponce De Leon Blvd Coral Gables, FL, 33134 - Free admission, free parking
What is it about
Holiday Spirit Expo 2022, is a conscious holistic event organized annually by Healing Arts Global and GaiaPop Media focused on the integral spirit of being, its evolution and traditions with more than 5 years bringing love, peace , magic, wellness, fun and union to the community of Coral Gables, The Heart of Miami.
The Experience
There you will find diverse exhibitors and healersfocused on wellness and health, beauty, art, jewelry, fashion, gift ideas, shoes, gourmet treats, healthy food, vegan products and food, sweets, gifts for your children, pets and much more in a very special time. And for all the family!
A Day for you
We will pamper you with a "Free Urban Retreat Day" Energizing Body Mind Heart & Soul ,where you can try and learn new techniques, therapies and ceremonies from the teachers that will consist of short talks, coaching, fun and interactive activities, mini-workshops, yoga, zumba and scheduled meditations all day !
What will you find
An incredible day full of good vibes and of course, we will also have the best holistic products and services in the city, where you can sign up for massage sessions, Reiki, tarot, yoga, sacred geometry, aromatherapy, aura reading or coffee, constellations family, sound healing, numerology, feng shui, iridology, quantum healing, biomagnetism, hypnosis, or reflexology to help ease holiday stress and enter 2023 with abundance and good balance.
We Believe Abundance
We will do our traditional "Toy Drive" whose collection of toys and donations will benefit the Las Valquirias Foundation, a non-profit association, for whom we ask you to bring at least one unwrapped toy (for children up to 13 years old) and thus collaborate with this noble mission.
How to be partIf you want to be a volunteer, sponsor, speaker or exhibitor, please contact us via Whatsapp at 305-3369313, by email at healingartsexpo@gmail.com or follow us on Instagram @healingartsexpo
Vendors, exhibitors, sponsors can reserve their space here: https://forms.gle/eEeDW1DnRNduGx158
Indoor/Outdoor - Free Admission, Free Parking |To assist just Sign up today! On Eventbrite https://coral-gables-holiday-spirit.eventbrite.com
Coral Gables Holiday Spirit Holistic Festival Healing Arts at Coral Gables Woman Club
De que se trata
Holiday Spirit Expo 2022, es un evento holístico consciente organizado anualmente por Healing Arts Global y GaiaPop Media enfocado al espíritu integral del ser, su evolución y tradiciones con más de 5 años llevando amor, paz y unión a la comunidad de Coral Gables, El Corazón de Miami.
La Experiencia
Allí encontrarás expositores diversos enfocados bienestar y salud, belleza, arte, joyería, moda, ideas para regalos, zapatos, golosinas gourmet, comida saludable, productos y comida veganos, dulces, regalos para tus hijos, mascotas y mucho más en una época muy especial y para toda la familia!
Un Dia para ti
¡Te consentiremos con un "Día de Retiro Urbano Gratis" donde podrás probar y aprender nuevas técnicas, terapias y ceremonias de la mano de los maestros que consistirá en charlas cortas, coaching, actividades divertidas e interactivas, mini-talleres, yoga, zumba y meditaciones programadas todo el día!
Que encontrarás
Un día increíble lleno de buenas vibraciones y por supuesto, también tendremos los mejores productos y servicios holísticos de la ciudad, donde podrás apuntarte a sesiones de masaje, Reiki, tarot, yoga, geometría sagrada, aromaterapia, lectura de aura o el café, constelaciones familiares, sanación con sonido, numerología, feng shui, iridología, sanación cuántica, biomagnetismo, hipnosis o reflexología para ayudar a calmar el estrés de las fiestas y entrar en el 2023 con abundancia y buen equilibrio.
Creemos Abundancia
Haremos nuestro tradicional "Toy Drive" cuya colecta de juguetes y donaciones serán a beneficio de la Fundación Las Valquirias, asociación sin fines de lucro, para quien pedimos traiga al menos un juguete sin envolver (para niños de hasta 13 años) y así colaborar con esta noble misión.
Como ser parteSi deseas ser sponsor, conferencista o expositor por favor comuníquese con nosotros vía Whatsapp al 305-3369313, por email a healingartsexpo@gmail.com o síguenos en Instagram @healingartsexpo
Vendors, expositores, sponsor pueden reservar su espacio aqui: https://forms.gle/eEeDW1DnRNduGx158
#coralgables #coralgablesevents #holisticevents #healingartsexpo #gaiapopmedia #coralgableswomanclub #free #miamifree #meditation #mindfulness #spirituality #wellbeing #balance #relaxation #innerpeace #heal #meditate #connection #mindbodysoul #mindful #harmony #breathwork #soundhealing #spiritualretreat
Entrada gratuita, estacionamiento gratuitoFecha: Domingo Diciembre 11th de 10:00am - 06:00pmDireccion: 1001 East Ponce De Leon Blvd Coral Gables, FL, 33134¡Regístrate hoy! En Eventbrite https://coral-gables-holiday-spirit.eventbrite.com