Copywriting Magic - Sexify Your Headlines. Spice Up Your Contents.
Description
Want to craft your headline that stops your prospects from whatever they are doing, so they can focus solely on your message?
Or structure your contents so engagingly that they just absorb every word you write?
Or engineer your killer Call-To-Action that your customers just simply can't refuse?
Let's be greedy and do all that. And more.
Your eyes and your attention don't lie: we are attracted to creative, stimulating and inspiring messages all the time. Your customers are probably like you, too. As a matter of fact, they like to be entertained, engaged and empowered before committing to a sale. May it be a play with words, being reminded of an emotional moment, or just something that puts a smile on their faces, here's the truth:
Great copywriting can exponentially boost the attractiveness of everything. And we mean EVERYTHING.
In this highly-practical Copywriting Magic workshop, we will work with you on your existing sales copies, or even help you create new ones, with one simple aim - to give your product and service offerings the make-up and style-up they deserve. From crafting in all the right pain points to satisfying your audiences' psychology, from leveraging on time-tested templates to tapping on cheap (and sometimes free) resources, by the end of the session, you will walk away with a sales copy that will WOW the socks off your customers!
---
WHO SHOULD ATTEND?
Business Development Professionals

Marketing Professionals

SME business owners & Entrepreneurs

Digital Marketers

Anyone who wants to spice up your sales copies, sexify your headlines and convert leads into sales!
---
WORKSHOP BENEFITS:
Learn how to attract your audiences' attention from all ages, especially from new media

Understand how to craft powerful, insightful and impactful messages to your target markets

Kickstart your creativity with sure-win formulas

Overcome writer's block and be able to write on anything, anytime, anywhere

Employ the psychological edge in your writing and win your customers' hearts

Effectively adapt your sales copies across different mediums - print, online, mobile and popular social media platforms

Discover the secret components to a killer Call-To-Action
Participants will walk home with a new ready-to-use sales copies, or give your existing ones an upgrade or even a total makeover!


---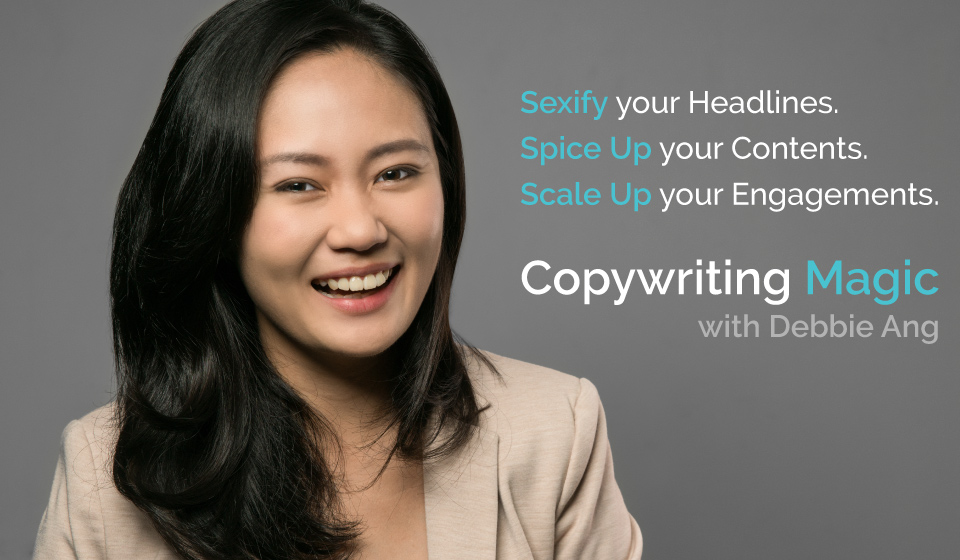 ABOUT THE TRAINER:
Debbie Ang
Growing up wander lusting for travel and life experiences, Debbie's fascination with maps and compasses takes her from the bland 9-5 to founding a digital agency so that she can create more travel memories and life keepsakes.
Once a corporate slayer, Debbie has had her fair share of experience working with the British High Commission, Malaysian public service and banking institution. She then continues to pursue her Master's in Applied Linguistics and picked the brains from the finest professors who taught her what's perfect academic writing.
After deciding that academic writing is not her cup of tea, Debbie embarks on various opportunities to discover her niche, and that includes working with start-ups. Eventually, she fell in love with digital and content marketing. Not too long after her hire, Debbie's got a call from a friend who needed help with copywriting.
And the rest you'd know is history.
Fast forward to this present day, Debbie's been working and consulting with local and international clients in digital marketing, content creation as well as copywriting. The majority of her clients are from LinkedIn, where they found her professional profile, thanks to effective copywriting.
A strong advocate of auto-didacticism, Debbie believes that "nothing cannot be achieved if you put your mind to it" and the best copy should "speak to your customers, and goes straight to their hearts." So be prepared for tons of hands-on, discussion and experience sharing, because learning sessions should never be all chalk and talk!
---
COURSE OUTLINE:
0900 | WORKSHOP INTRODUCTION
Copywriting for the new media audiences
Copywriting VS Content Marketing?
0920 | YOUR BUYER'S PERSONA
The Buyers Profiling (3WsH)
Activity: The Persona Research Guide
Live in your customer's world (Pain, Pleasure,Emotions)
Understanding online and offline reader's behaviour
Activity: Creating your customers' persona
1000 | COPYWRITING FORMULAS
Sure-win formulas to kick-start your creativity
Simplicity, Clarity, Elegance
Great copywriters produce killer copies
1045 | OVERCOMING WRITER'S BLOCK
New or Renew?: Your guide to evergreen content
The 10 Commandments of copywriting
Your treasure box of ideas: Swiped.co
Build your writing, break the block with this writing app
Activity: Creativity trigger (un-stuck your mojo)
1130 | YOUR FIRST COPY
How to craft a compelling copy
The Hook: Catch your audiences' attention with these words
Engineer SEO-friendly and CTA-driven copies
How to know if your copy sucks
Activity: Drafting your first copy
1230 | LUNCH + NETWORKING
1330 | THE TOUCH OF MIDAS
The Benjamin Franklin Method to True (Copy)Writing
The human's psychology towards words
Get into the great minds of copywriters
1415 | COPYWRITING ACROSS CHANNELS (HEADLINES & BANNERS)
Headlines & Web Banners for Social Media
Headlines & Web Banners for PPC & advertising
Headlines & Web Banners for print media & marketing collaterals
Creating social impact across different mediums (print vs. web vs. mobile etc)
1445 | INTEGRATING DESIGN & BRAND
Colour theory + formatting
Tonality
Cultural Mindfulness & Sensitivity
Activity: Copywriting refinement
1615 | USEFUL TOOLS TO HELP YOU CRAFT 'THE COPY'
Resources that helps your copy to be more awesome
Polishing tools
Productivity Tools
Types of Copywriter: Which one are you?
1700 | Q&A AND WORKSHOP ENDS
---