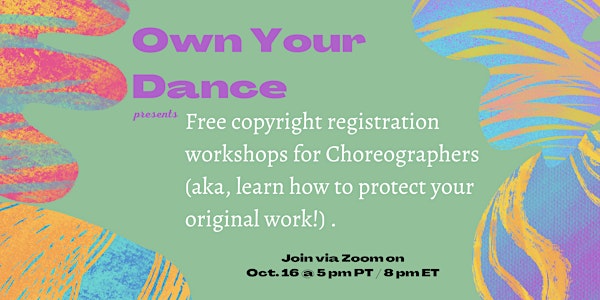 Copyright Registration Workshop for Choreographers
Workshop will include (1) what dance is eligibile for copyright registration (2) recent infringement cases and (3) the application process.
About this event
Take ownership of your intellectual property rights by protecting your original choreography. Own Your Dance's mission is to empower artists by teaching them how to take full legal ownership of their artistry through copyright registration.
Historically, the dance community has relied on an unspoken code of respect to recognize and protect choreographers' original work. However, in the digital age, dance content rapidly proliferates, scales, and can be attributed to the wrong people. Copyright registration allows choreographers to enforce the exclusive rights of copyright in the legal system and to file a copyright infringement suit. We seek to educate choreographers about the process to empower the entire dance industry as a whole.
All our workshops are FREE and run BY artists FOR artists. Workshop content will include:
1. what is a copyright registration
2. a step-by-step guide on how to register
3. necessary criteria for choreographic registrability
4. resources on past copyright infringement cases in the dance industry
Sign up and you will receive a confirmation with a zoom link!