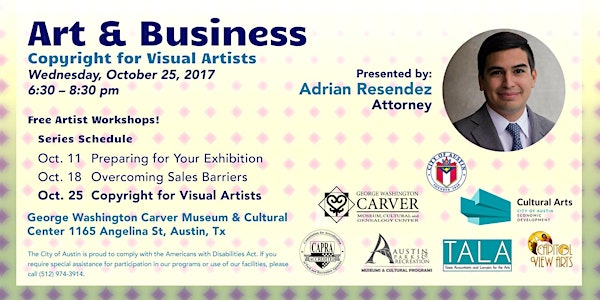 Copyright for Visual Artists part of the ART & BUSINESS Series
When and where
Location
George Washington Carver Museum 1165 Angelina Street Austin, TX 78702
Description
The City of Austin is proud to comply with the Americans with Disabilities Act. If you require special assistance for participation in our programs or use of our facilities, please call (512) 974-3914.
Copyright for Visual Artists is the third in a three part series addressing business topics specifically for visual artists.
Protect yourself and your artwork. This informative presentation will cover issues affecting content that every visual artist – including painters, sculptors, photographers, and mix media artists – should know. Rights of copyright holders, when to file a copyright, as well as myths surrounding buzzwords like "fair use" and "public domain" will be discussed. Time for Q&A will be allowed.
About the speaker, Adrian Resendez

Mr. Resendez started The Resendez Law Firm, PLLC after receiving his law license from The Supreme Court of Texas in 2015. Mr. Resendez has worked for the Texas House of Representatives, several litigation firms, and technology consulting companies. Mr. Resendez prides himself in keeping up with the latest technological advancements, current events, and legislation.
Mr. Resendez grew up in Houston, Texas and lived in Villahermosa, Mexico and Maracaibo, Venezuela where he learned to speak, read, and write Spanish. He attended the University of Texas at Austin on scholarship and graduated in two and a half years with a double major degree. He then attended Texas A&M School of Law focusing on intellectual property, international business, and immigration.
http://theresendezlawfirm.com/
Join us on Wednesdays in October for these informative presentations in the ART & BUSINESS series. All seminars are free to attend and occur at the Carver Museum.
Preparing for Your Exhibition
Weds, Oct 11th, 6:30 – 8:30 pm
Learn how to write an effective artist statement, develop a timeline, pack art for shipment, organize your finances, and follow best practices associated with museums and galleries.
Carre Adams, Coordinator of Exhibition, George Washington Carver Museum, Cultural & Genealogy Center
Bamidele Demerson, Site Manager and Curator, George Washington Carver Museum, Cultural & Genealogy Center
Register for Preparing for Your Exhibition at
https://preparingforyourexhibition.eventbrite.com
Overcoming Sales Barriers
Weds, Oct 18th, 6:30 – 8:30 pm

This workshop will focus on the pitfalls young and new artists experience. Topics include how to promote and position your artwork at festivals, the importance of a personal connection when making one-on-one sales, and techniques to build confidence when engaging the public in your artwork.

Ryan Runcie, Studio Artist and Muralist
Jorge Palomarez, Studio Artist and Muralist
Register for Overcoming Sales Barriers at
https://overcomingsalesbarriers.eventbrite.com