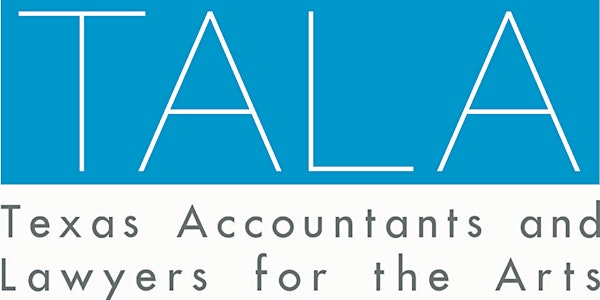 Copyright For Musicians-Austin
When and where
Location
University Hills Library 4721 Loyola Ln Austin, TX 78723
Description
Copyright for Musicians
You are registering for the musicians seminar.
Visual, Theater, Dance, Film and Literary artists register here.
Is your art protected? Join TALA for a comprehensive discussion of copyright fundamentals and how to protect your work. This multidisciplinary presentation includes what your rights are as a copyright owner, registering your work, fair use of copyrighted material, and more. There will be time allowed for Q&A after the presentation.
TWO distinct presentations
-one multidisciplinary and one for musicians-
Seminar speakers:
Brooks Rice, Attorney at Law
Brooks Rice runs a small law practice based in his hometown of Austin, Texas, focusing on the entertainment, intellectual property, and small business matters facing artists and creative entrepreneurs. Licensed in both Texas and California, Brooks helps his clients evaluate best practices for protecting their online and creative properties and assists artists in protecting and monetizing their artistic creations. His clients include record labels, producers, sound engineers, recording studios, musicians, film-makers, website owners, managers, actors, voice actors, authors, and business owners and he regularly assists with copyright and trademark registrations.
Brooks continues to be very active in the Austin music community and volunteers for Texas Accountants and Lawyers for the Arts where he has served on the board of directors since 2013. He recently was a contributing researcher for the ground-breaking Austin Music Census released in 2015 and has also given talks for the Austin Bar Association's Entertainment and Sports Law Association, The Austin Film Society, and the 2014 BlogathonATX.
When Brooks is not at work, he continues to write and perform music as a guitarist, is an avid scuba diver, and does his best to keep up with his growing family and two new babies.
Amy E. Mitchell, Attorney at Law
Amy E. Mitchell is a transactional lawyer based in Austin, Texas, who practices entertainment law with a focus on music, television, and film law issues. She has been licensed to practice law in Texas since 2004 and represents emerging artists and entrepreneurs as well as established professionals.
Amy earned her B.A. in Spanish and Economics from the University of Texas at Austin in 1999 and her J.D. from the University of Texas School of Law in 2004. Prior to attending law school, Amy served as Office Manager of the Texas Music Office, a state agency within the Texas Governor's Office. During law school, she attended the University College London in London, England, to study international and comparative law. Amy served as a staff editor of both the Texas Intellectual Property Law Journal and the Texas Review of Entertainment and Sports Law; President of Women's Law Caucus; Vice President of the Intellectual Property Law Society; and a Teaching Quizmaster. She also arranged for and directed UT Law's a cappella group that performed during the annual law school production Assault & Flattery.
From 2007 to 2012, Amy worked with Christian L. Castle, Attorneys on music industry talent representation, digital distribution, content licensing, and public policy matters. In 2009, Amy was elected to serve on the Council of the State Bar of Texas Entertainment and Sports Law Section and currently serves as Chair. In 2011, thanks to an "of counsel" arrangement with Deena Kalai, PLLC, Amy expanded her film and television practice to include production counsel services. In 2013, Amy successfully spearheaded efforts to charter an entertainment law section for the Austin Bar Association and is currently serving as Immediate Past Chair. In 2014, Amy was invited to join the Advisory Council for Texas Accountants & Lawyers for the Arts. In addition, Amy writes frequently on entertainment law topics and maintains the educational site AskaMusicLawyer.com, which receives thousands of visitors each month.
Generously Sponsored by:
City of Austin Cultural Arts Division
Austin Bar Foundation
Texas Bar Foundation
Texas Commission on the Arts