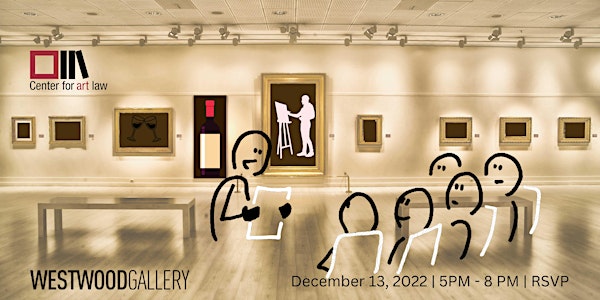 Copyright & Fair Use: Distinguished Lecture & Benefit with Luke Nikas
Join us for a detailed overview of the Andy Warhol Case, the recent oral arguments and insight into the "fair use" defense.
When and where
Location
WESTWOOD GALLERY NYC 262 Bowery New York, NY 10012
Refund Policy
Contact the organizer to request a refund.
About this event
Earlier in October, the Supreme Court of the United States considered whether a famous set of images that Andy Warhol based on a 1981 photograph of Prince by the award-winning photographer Lynn Goldsmith represents "fair" use of the photograph. The question is that whether Warhol's successors could license the images for commercial use without the permission of (or compensation to) Goldsmith.
When does a work amount to fair use? How transformative does art have to be to be awarded the fair use defense? When should artists be paid for original work that is then transformed by others? These questions that the case focuses on affect artists, authors, filmmakers, museums, movie studios, the legal community and more.

While we wait for an opinion to be delivered by the Court, join the Center of Art Law at WESTWOOD GALLERY in New York for a distinguished lecture with Luke Nikas, Partner at Quinn Emanuel Urquhart & Sullivan, who has represented the Warhol Foundation. We will discuss the Andy Warhol case, fair use, derivative works, and transformative works as well as a possible outcome of the recent oral arguments heard before the court!
Join us for a networking reception after the lecture at the gallery to discuss everything art law and more!
To get ready for the event, visit our website and read up about the Warhol Foundation case and other copyright matters.
DISCLAIMER: This is an in-person event at WESTWOOD GALLERY NYC. There is LIMITED seating and is expected to be a STANDING ROOM EVENT. 
About the speaker
Luke Nikas, Partner, Quinn Emanuel Urquhart & Sullivan

Luke Nikas is a partner at Quinn Emanuel Urquhart & Sullivan's New York office.  Luke represents individuals and companies in almost every type of litigation across the globe, including in an array of industries such as art, advertising, banking, consumer goods, law firm business, insurance, pharmaceutical, health care, professional sports, media and entertainment, technology, and real estate.  

Luke is also Co-Chair of the firm's Art Litigation and Disputes Practice and has one of the most prominent and successful art litigation practices in the world. He represents several of the most significant participants in the art world, including major artists, art foundations, museums, and museum directors, art collectors, dealers, galleries, auction houses, conservators, and art investment companies. Among several other matters, he has recovered priceless works of art by Andy Warhol and Pablo Picasso; prosecuted and defended fraud, contract, negligence, and racketeering cases involving allegations of forgery and problematic provenance; located stolen artwork in foreign jurisdictions and countries; litigated disputes regarding art contracts and transactions, ownership of art, and transfers under the UCC; obtained insurance coverage for clients facing art-related lawsuits; advised catalogues raisonné about litigation risk management; handled numerous copyright and trademark matters for artists, companies, and foundations, including issues related to fair use, non-infringement, the Digital Millennium Copyright Act, and the Architectural Works Copyright Protection Act; and advised prominent individuals regarding repatriation issues.  He has also advised clients regarding the sales and attempted sales of NFTs, and recently obtained a preliminary injunction in federal court that successfully prevented the sale of an unauthorized NFT of a well-known music album.

He co-founded an international arbitration court, called the Court of Arbitration for Art, dedicated to the resolution of art law disputes and was nominated for "Best Innovation" in the field of arbitration by the Global Arbitration Review.  He has also given numerous lectures and presentations, including at the New York State Legislature, National Arts Club, Columbia Law School, New York University Law School, University of Southern California Intellectual Property Institute, Mondo.NYC music conference, Sotheby's Art Institute, the Gagosian Artists' Archives & Estates Symposium, the New York City Bar Association's Art Law Committee, and the International Arbitration Club of New York. Luke earned his J.D. from Harvard Law School, where he graduated magna cum laude in the top 10% of his class.
About the Center for Art Law
Center for Art Law is a New York-based research and education nonprofit that offers resources and programming for the advancement of a vibrant arts and law community. Through its website and monthly Art Law Blast newsletter, the Center disseminates information and keeps readers updated on art- and law-related news, events, cases, and publications. The Center facilitates conversations by hosting and participating in programs including conferences, workshops, clinics, film screenings, and more. Today a world-renowned asset to the art law field, the Center serves artists, attorneys, students and scholars of both disciplines, art market professionals and members of the general public. More information at www.itsartlaw.org.
About WESTWOOD GALLERY NYC
WESTWOOD GALLERY NYC, established in 1995 focuses on contemporary artists from the 1960s through today, including downtown artists, Bowery Arts District, historic photography, and secondary market artwork. The core exhibition program includes extensive research into the socio-cultural implications of the artist's artwork and process. Other projects include an award-winning documentary environmental film, site-specific installations, international art collaborations, museum loans and humanitarian philanthropic activities. More information at www.westwoodgallery.com