Copyright Basics for Cultural Heritage Collections
Event Information
Refund Policy
Refunds up to 7 days before event
Description
Feeling confused about copyright? As more of our cultural heritage is digitized and made accessible online by collecting institutions, users are encountering a bewildering variety of information about the rights in digital objects. Recognizing the need to standardize this information, DPLA and Europeana have developed a set of twelve rights statements that are simple, descriptive, and flexible. These statements can be found at RightsStatements.org.
This workshop explores copyright and how to apply the correct rights statements to your collections. With librarians, archivists, and museum professionals in mind, presenter Greg Cram will discuss copyright basics, public domain, works for hire, copyright duration, licenses and contracts, Creative Commons, fair use, and dealing with orphan works. Participants will apply the rights statements to objects found in typical collections such as books, manuscripts, commercial photographs, family papers and snapshots, yearbooks, maps, and more. Participants will receive a certificate for 5 Library Education Units (LEUs)
AGENDA
8:30 - 9:15 a.m. Registration and Light Refreshments
9:15 - 9:30 a.m. Welcome, Introductions, Logistics
9:30 - 10:00 a.m. The Big Picture: Why Are We Here?
10:00 - 10:15 a.m. Let's Create a Copyrighted Work
10:15 - 11:15 a.m. In Copyright: Copyright Essentials
11:00 - 11:15 a.m. Break
11:15 - 12:15 a.m. In Copyright: Contracts and Agreements
12:15 - 1:15 p.m. Lunch at the ISL provided by Duos
1:15 - 2:15 p.m. Public Domain in United States
2:15 - 2:45 p.m. Exceptions, Limitations, and Risk
2:45 - 3:00 p.m. Break
3:00 - 4:15 p.m. Case Studies + Open Discussion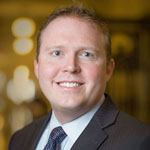 Greg Cram is an engaging speaker with practical experience applying rights statements to library and archival collections. He is the Associate Director of Copyright and Information Policy at The New York Public Library. In this role, he endeavors to make the Library's collections broadly available to researchers and the public. He is responsible for developing and implementing policies and practices around the use of the Library's collections, both online and in the Library's physical spaces. Greg has helped steer projects through a maze of complex intellectual property issues, including the release of more than 200,000 high-resolution images of public domain collection items. He has represented the Library in advocating for better copyright policy and has testified before Congress and the United States Copyright Office. Before joining the Library in 2011, Greg served as the copyright clearance consultant to Leadership Team Development, a business support company that organizes thousands of meetings, seminars and conferences. He also worked as a licensing associate at Sanctuary Records, a large independent record label. He is a graduate of Boston University and The Benjamin N. Cardozo School of Law. He is a licensed attorney in New York and Massachusetts.
Date and Time
Location
Refund Policy
Refunds up to 7 days before event