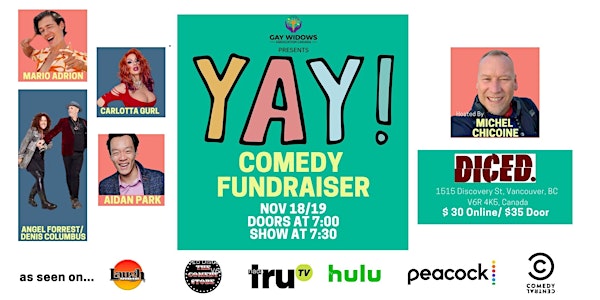 Copy of The YAY! Comedy Fundraiser
The YAY! Comedy Fundraiser! A Hilarious Comedy Variety Show with Music Drag and Comedy
When and where
Location
D.I.C.E.D Discovery 1515 Discovery Street Vancouver, BC V6R 4K5 Canada
Refund Policy
Contact the organizer to request a refund.
Eventbrite's fee is nonrefundable.
About this event
** DUE TO UNFORSEEN CIRCUMSTANCES, THIS EVENT WILL BE POSTPONED TO SPRING 2023 **
(April 28, 2023 is the current tentative date - to be confirmed)
The Gay Widow's Association of Canada Presents a hilarious comedy Variety show fundraiser for The Yay! Foundation!
Featuring...
Mario Adrion (1M Followers on Youtube, Fox)- Comedian
Aidan Park (NBC, TV Guide Channel, Comedy Special on Peacock) - Comedian
Angel Forrest and Denis Columbus (Juno Award Winning Nominee) - Music
Carlotta Gurl (Legendary Drag Queen)
Hosted By: Michel Chicoine (Gay Widow's Association of Canada founder and Executive Director)
The Yay Foundation's mission is to bring hope and strength to young adults ages 14-24 in underserved and disenfranchised communities negative impacted by mental health issues such as addictions, suicides, depression and hopelessness.
The Yay Foundation hopes to achieve this through providing- Empowerment training focussed on building confidence and improving self-worth through research backed tools and strategies.- Connect clients with trained facilitators for mentorship- Creating localized communities of empowered thinkers to encourage hope, optimism and empowered mindset.
Here is the Art of Being Yay Program Description. Many individuals from all walks of life face feelings of shame, isolation, and hopelessness on a daily basis. The worst thing in the world is to feel alone in one's pain and to feel powerless to change the circumstances which are driving the pain. When an individual has a traumatic experience or are in an unwanted life circumstance which they feel powerless to change, they can develop a base self-concept of shame. Too many people are in this painful cycle, which often times leave them feeling like they must suffer alone. When this happens, individuals feel helpless, unwanted, and alone in isolation. This can lead to anxiety, illness, addictions, depression and in some cases death.
The YAY Guy's Joy Journey was born from the personal experiences of Aidan Park, the creator of the program. Aidan was brought to the United States from South Korea as an undocumented immigrant. He grew up in poverty in his grandmother's government housing in San Francisco on $600 a month. When he graduated high school, he was still undocumented, so he could not get a job or go to college. These painful events were further compounded when as a homeless desperate young man, he was diagnosed with HIV at the age of 19. As a gay, HIV+, homeless teenager, Aidan identified that the two most painful aspects of that time were…
1) Feeling alone and ashamed.
2) Feeling powerless to change a desperate circumstance.
Luckily, he found a mentor who encouraged him to study empowerment and allowed him space to feel a sense of self-worth during an incredibly difficult time. Aidan has been able to cultivate a joyful and successful life. Aidan is an award winning keynote speaker, best-selling author, internationally headlining comedian, and creator of the brand "The Yay Guy" in which he advocates for joyful living.
Aidan's best-selling book (with a foreword by Margaret Cho, his hero), two comedy specials on Tubi and NBC's Peacock, and his workshops encourage self-love and empowerment through the power of humor and storytelling. Aidan's success and joy was only possible because he was able to work through the feelings of shame and isolation that he experienced at a young age through the power of mentorship and connection.Aidan was also able to create a vision and hope for the future at a time when he felt hopeless. The YAY Guy's Joy Journey's mission is to...
1) inspire individuals in pain to be able to ease their feelings ofshame and isolation through the power of storytelling and humor
2) inspire hope and optimism for the future by encouraging individuals to get a clear direction of the joyful vision of their lives, and spark their personal empowerment.