Five days of amazing seabird, songbird, landscape and seascape photography in the Avalon Peninsula of South Eastern Newfoundland Labrador.
About this Event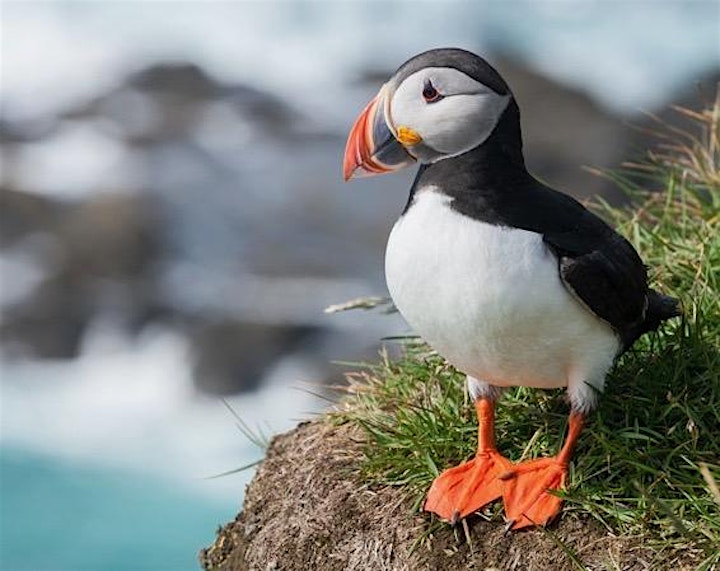 Limited to a maximum of just five photographers, on this trip participants will discover the beauty and wonder of a number of Canada's largest seabird colonies, with thousands of Atlantic Puffins, Razorbills, Common Murres, Black-legged Kittiwakes, Northern Gannets, and Double-crested and Great Cormorants. Four days dedicated to photographing the beauty of the Avalon Peninsula of Newfoundland Labrador driving along the coastline and traveling to various coves and inlets discovering the very best coastline in Eastern Canada for amazing landscapes, seascapes and scenery. I will teach and provide photography direction as needed throughout the five days, so that you'll be sure to return home with memorable images of each of the venues we visit.
Our trip will begin and finish in one of the oldest cities in North America, St. John's Newfoundland Labrador, Canada. The city appears on maps back as early as 1519!
Per Person Rate:
Single Person: $2250.00
Two+ People Per Person Rate: $2100.00
($1000.00 Deposit Holds Your Place)
Price Includes:
- Four and one half days of guided wildlife photography
- Day One: Half day guided photography and orientation
- Day Two: Lunch at The Loft, Branch NFLD
- Day Two: The Stanley House, Clarenville, NFLD 1 Night
- Day Three: Whale Watching: Sea of Whales Adventure
- Day Four: Witless Bay Puffin Boat Tour
- Day Four and Five: Picnic Style Lunch
- Daily Tour Transportation
- Airport Pickup and Drop Off
-$200 Accomodation Credit
Price Excludes:
- Flights to Newfoundland Labrador
-Accomodations except as noted above
- Meals except as noted above
- Gratuities
- Trip Insurance (Mandatory)
- Personal snacks and drinks
Itinerary
Day One: July 5 Trip Orientation Meeting & St. John's
Arrival in St. John's, Settle into Accommodations and Tour Orientation Meeting1:00 pm Orientation Meeting followed by afternoon/evening travel through St. John's for visits to Signal Hill National Historic Site, Eagle Nesting Site, Fort Amherst Lighthouse
Day Two: July 6 Cape Saint Mary's & Travel Day
Our day begins with travel to Cape St. Mary's Ecological Refuge, home to one of Newfoundland's largest seabird colonies. Estimated that the site is home to 24,000 northern gannets, 20,000 black-legged Kittiwakes, 20,000 Common Murres, and 2,000 Thick-billed Murres, as well as dozens or hundreds of Razorbill, and Black Guillemot breeding pairs. All this nestled along the rugged coastline awash in awe inspiring verdant beauty of the land and the azure sparkling Atlantic Ocean.
Lunch in Branch, NL at The Loft is included
Afternoon finds us returning to Cape St. Mary's for photographer's choice. More capture of images at Bird Rock, or pursuit of Horned Lark, American Pipit and other songbirds on the beautiful sub-arctic tundra, as well as other wildlife and unique wildflowers. Willow Ptarmigan, raptors and possibly Woodland Caribou may be spotted along the way. Late afternoon travel to Clarenville where we'll spend the night at Stanley House, Clarenville, NL Accommodation provided for this night only. **
Day Three: July 7 Elliston, Bonavista, Trinity, Whale Watching Trip
Today we begin with travel to Elliston, and the Puffin Viewing site that offers the closest view of puffins, from the land, in all of North America. Puffins fly close to viewers and often land on the cliffs just several feet away. Elliston is also famous for its use of root cellars.
Bonavista, just minutes from Elliston, at this time of year provides the best opportunity to view icebergs along the coastline. An hour further along, the hamlet of Trinity is an excellent example of a traditional Newfoundland fishing village dating back as far as the sixteenth century. Historical churches, parish hall, theater and courthouse all provide a glimpse into the past of a typical coastal fishing village. We will stop for lunch at The Erickson Premises, one of the best places in for Fish & Chips in Newfoundland!
After lunch we'll jump aboard a twenty-five-foot Rigid Hull Inflatable Boat (RHIB) for a three-hour Whale Watching Tour with Sea of Whales Adventures. Their knowledgeable and hospitable staff will provide us with a fantastic trip! Their tour will get us close to the action and we'll see icebergs, whales, and other marine wildlife from the comfort of your individual shock mitigated seat aboard their vessels. Their guides will ensure that you have the best whale watching tours while viewing all of the available whales and wildlife in the area.
Evening travel return to St. John's
Day Four: July 8 Seabirds & Songbirds of the Northeast Avalon
This tour begins with a morning birding in a variety of songbird habitats, searching out gems such as Boreal Chickadee, Fox Sparrow, Yellow-bellied Flycatcher and numerous species of warbler – among many others. In the afternoon, we take a boat tour of Witless Bay Ecological Reserve which is home to more than 4 million seabirds – including North America's largest Atlantic Puffin colony, thousands of Common Murre, Black-legged Kittiwake, and Razorbill. And of course, we may also encounter whales. Picnic style lunch and Witless Bay Boat Tour ticket provided.
Day Five: July 9 Birding on the Edge
Today we head south along the "Irish Loop". Although named for it strong cultural roots, this area is better known for its spectacular scenery and coastal landscapes. We will visit a variety of habitats from lush boreal forests to towering cliffs, and expansive tundra to quaint fishing villages. We will look for songbirds such as Blackpoll Warbler, Pine Grosbeak and Canada jay; elusive barren-land species such a Willow Ptarmigan; and a variety of seabirds that frequent this coast. Historic lighthouses, beautiful vistas and even one of North America's earliest European settlements will dot our path. We may even spot Woodland Caribou or Moose along the way. Picnic style lunch provided.
Day Four and Five Guide: Jared Clarke grew up on the northeast coast of Newfoundland and was introduced to the outdoors at a very young age, mostly by his grandfathers. Always a nature enthusiast, he became interested in birds while working for a local conservation group. Jared soon became one of the most avid birders in the province. Despite his "official" training as a health researcher (Ph.D. Medicine), his love of nature and sharing it with others increasingly led him astray. He currently runs a small bird and nature tour business, called Bird•The•Rock, and routinely leads trips at home and abroad for various tour companies. You can follow his adventures at www.birdtherock.com.
Organizer, Guide and Tour Leader: Wayne Williams was born in Western Canada and spent years in the interior of British Columbia and The Yukon. Always with an enjoyment and love for the outdoors and photography spent time exploring the rivers and mountains of those wild places. After also experiencing the wide open spaces of Saskatchewan and a short stint back in BC, he and his family moved to the Rio Grande Valley and have resided there for the past twenty six years. Apart from his profession as an educator, he has been actively involved in photography as an officer in the Texas Nature and Environmental Photographers organization, arranging monthy meetings and photography excursions for a number of years. He also guides on local wildlife ranches and outdoor venues in the RGV and provides personalized photography instruction and classes. You can see his wildlife photography at www.waynewilliamsphotography.com
Administrative Details
Transportation to and from the city of St. John's in the Canadian province of Newfoundland Labrador is the responsibility of each participant and arrival must be scheduled prior to the start of the event.
Airport pickup and drop off as well as all day trip transportation is included in the cost of the event.
Accommodation during the event is the responsibility of each participant. Once an event ticket has been purchased, participants will receive a packet of information for excellent choices for arranging accommodation while in the city of St. John's.
AirB&B is another great option for finding clean, affordable lodging close to all amenities and services in the area.
Meals, drinks and snacks may be purchased by participants at local grocery outlets except for any indicated as included in the itinerary.
Please contact the event organizer for this list prior to purchasing a ticket.
** Accommodation for the one night stay at the Stanley House in Clarenville, Newfoundland on Day Two is included in the cost of the event.
Participants will also be provided with a complete pre-trip listing of suggested photographic gear, clothing and additional gear that is appropriate to July climate in Newfoundland and additional suggestions to make the trip comfortable and enjoyable.
Please get in touch with the Seabirds, Songbirds, Seascapes and Whales of Avalon Newfoundland photographer Wayne Williams at 956-867-7877 or send an email to Wayne by using the Contact button below with any questions before purchasing a ticket.