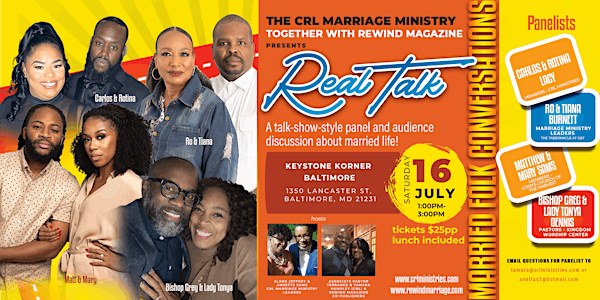 Copy of REAL TALK, a talk-show-style panel discussion about MARRIED LIFE!
Location
Keystone Korner Baltimore
1350 Lancaster Street
Baltimore, MD 21231
United States
COUPLES — WE'RE DOING IT AGAIN AND YOU DON'T WANT TO MISS THIS! Join us for REAL TALK, a talk-show-styled panel discussion about marriage!
About this event
The Church of the Redeemed of the Lord's Marriage Ministry and REWIND Marriage Magazine invite you to join us for this awesome event. Our panel will answer and discuss questions submitted by couples. There will also be an opportunity for couples in the audience to ask questions on the spot for our panel and members of the audience will chime in as well. INCLUDES LUNCH, PRIZES, AND FUN...FUN...FUN! DON'T MISS OUT... SEATING IS LIMITED. If you would like to submit a question for the panel email tamara@crlministries.com or anettas3@hotmail.com. Open to married or engaged couples and singles considering marriage.