About this Event
This is your opprotunity to be the STAR, Take the stage, dress the part, know your song, light the crowd on fire, win the cash prize!
This is Karaoke for us, ever notice your favorite songs arent in your favorite karaoke spots? Have you ever wanted to take the stage and perform some of your favorite songs? do you need a couple dollars to hold you over till pay day? Then get your butt up and get on down to LIT KARAOKE!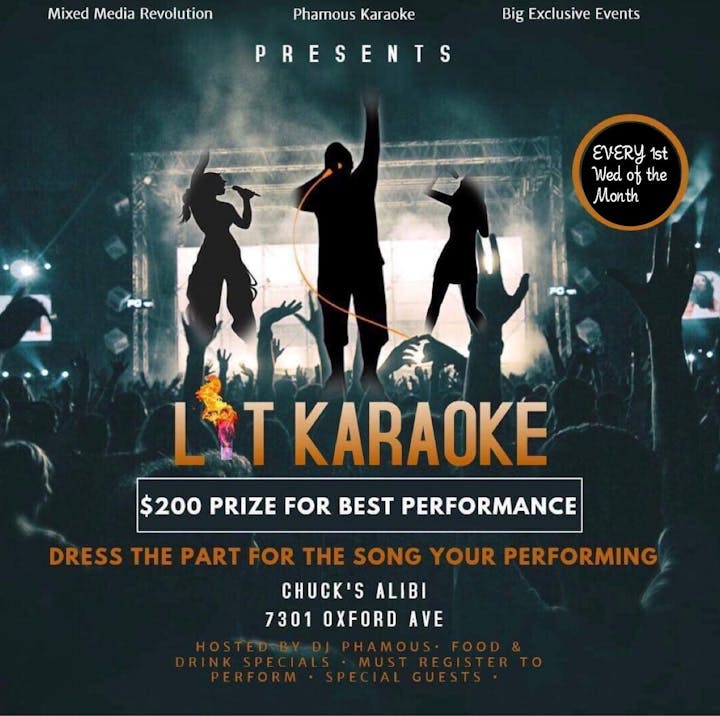 THE RULES ARE SIMPLE:
1. Cosplay as the artist your performing as, This is not mandatory but it will get you bonus points.
2. Know the song you want to perform & assemble your crew or hit the stage solo
3.Light the crowd on FIRE
4. Win the cash prize
EASY!!!
To enter the $200 Grand prize you must purchase the $20 performance ticket, and there must be a minimum of 5 contestants enter for the grand prize to be available.
If we do not have enough contestants we will have a General admission contest amongst those who volunteer to perform. and will give a cash prize to the winner.
Those who purchased Performance tickets will be refunded $10 if that the case or they can transfer that money to another general admission ticket for a plus 1 to enter.
To register to perform first purchase a performance ticket, then email Litkaraoke360@gmail.com and in the subject line put 'LIT KARAOKE" in the body place your name and phone number, ticket confirmation number and what song you wish to perform. We will then contact you with further details.