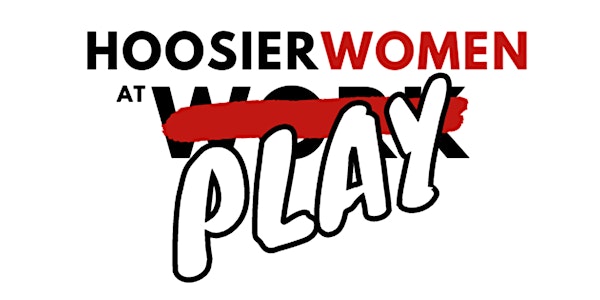 Copy of Hoosier Women at Play History Conference
Join us for a week-long conference of Zoom lunch presentations for this year's Hoosier Women at Work History Conference focused on play.
About this event
Update!
2022 Hoosier Women at Play Conference will be a free week-long series of lunch hour talks via Zoom.
Historical discussion and analysis of women's play is as necessary as the study of their work. Women's activities have been undervalued throughout history by patriarchal economic, political, and social systems. Women's play, pleasure, and creativity have even been treated as dangerous and devious, challenging demands that women's worth was defined only through their roles as wives and mothers or later as (still undervalued) workers in the capitalist marketplace.
This conference challenges presenters to explore women's play and what it means for individual and collective happiness, health, liberation, and value.
The "play" theme is broadly defined and can include examinations of Hoosier women's sports, leisure, recreation, art, outings, social and recreational organizations, and sexual play, as well as women's rejection of traditional work or roles. We encourage topics related to women of color, immigrants, those who identify as LGBTQ+, and women with disabilities.
More information and updates: https://www.in.gov/history/hoosier-women-at-work/
Keynote Speakers
Dr. Tony Jean Dickerson
Dr. Dickerson was born and raised in Indianapolis, Indiana, and has earned degrees from Lincoln University (B.S. in Special Education and Elementary Ed.), University of Central Missouri (Master of Education), and University of Missouri-Kansas City (Education Specialist in Administration). In 2019, after a successful thirty-year career in education, she earned her doctorate in Educational Leadership and Policy Studies from Kansas University. She currently works at the Kindezi Academy School #69, having returned to Indianapolis in 2017. Dr. Dickerson has gained national recognition for her ability to fuse art, African American history, and community activism through quilting. She has shown her quilts in fifteen exhibitions since 2017, including shows at the Brown v. Board of Education National Historic Site (Topeka, Kansas), the Legacy Museum at Tuskegee University (Tuskegee, Alabama), and the Center for Black Literature and Culture at Central Library (Indianapolis, Indiana).
For her Hoosier Women at Play keynote address, Dr. Dickerson will speak on the significance of quilting in Black history throughout the African Diaspora and on her motivations and experience in founding the Central Indiana Akoma Ntsoso Modern Quilt Guild, which she serves as president. She will also address the importance of this art, traditionally upheld and passed on by women, in linking the younger generations to the past and, from the Akan (West Africa) name Akoma Ntoso, linking "hearts and understanding."
Dr. Michella Marino
Dr. Marino grew up in Shelby County, Indiana, and graduated from Morristown High School. She earned a B.A. in History from Hanover College, a M.A. in History from the University of Louisville, and a Ph.D. in American History from the University of Massachusetts Amherst. A lifelong basketball player, she began playing roller derby while in grad school. She taught at a small liberal arts college in Nebraska before returning to her home state to work for the Indiana Historical Bureau division of the Indiana State Library. As Deputy Director, she oversees IHB's public history programming. She resides in the Butler Tarkington neighborhood of Indianapolis with her 7-year-old son, husband (a history teacher at Shortridge), and super ornery dog.
For her Hoosier Women at Play keynote address, Dr. Marino will be presenting her personal experience as well as the extensive research she conducted for her new book Roller Derby: The History of An American Sport (published in October 2021, University of Texas Press). She will speak to the unique gender relations and politics of roller derby, which historically centered women athletes, while struggling to be accepted as a mainstream sport. Dr. Marino will shine a feminist light on how participants used roller derby to navigate the male-dominated world of sports along with their identities as athletes, mothers, and women at play.