We're SUPER EXCITED! Daughters Of Destiny Ministry for women is back!! Saturday... JUNE 26th...11a - 1p 4905 Ridge Street * Col., OH. 43207
About this event
Join us for a relaxing time of encouraging one another, while experiencing Fellowship, Food, and Fun...It's time for Summertime Sisterhood.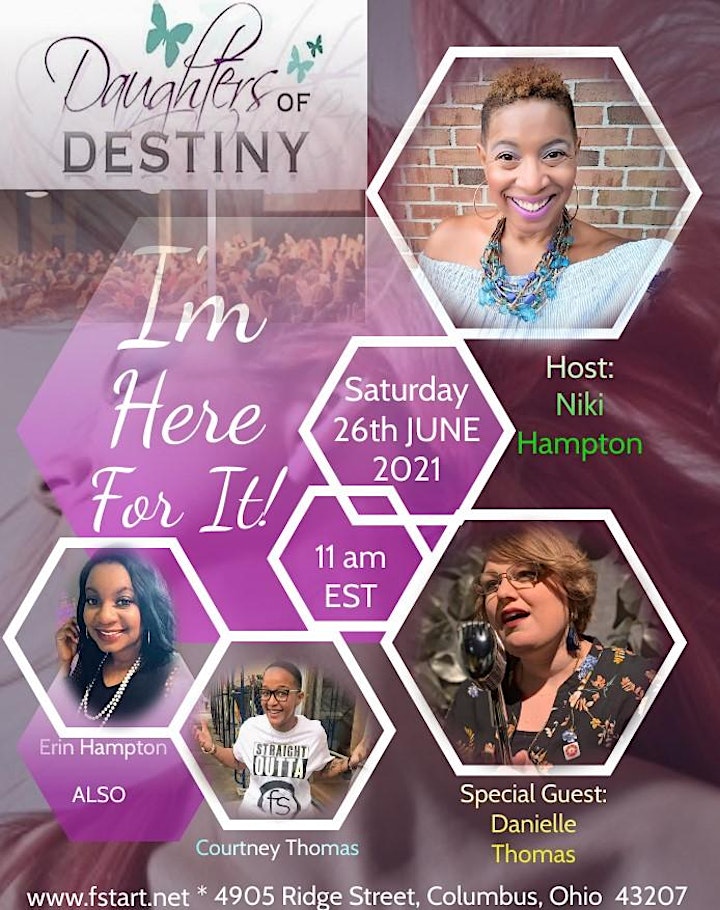 Organizer of Copy of Daughters of Destiny ~ It's a SISTERHOOOD!
NIKI HAMPTON ~ Speaker * Author * Coach * Consultant * Entrepreneur
http://www.nlhampton.com
As an ordained minister, speaker, author, and entrepreneur, Niki has been an advocate of women for many years. Niki is the recipient of the "Women of Courage Award", awarded to her by Joyce Beatty of the Ohio House of Representatives.  Niki has exemplified remarkable accomplishments in regard to civic concern and dedication to her community.  In 2002, Niki founded a ministry to women entitled, "Women of Substance", which is now presently known as "Daughters of Destiny."
"Sister-Story"...Niki has a tremendous testimony of the miracle-working power of God in one's life.  July 6, 2006, Niki was involved in a near-fatal car accident.  As a result of the accident, Niki had to be pulled by the "jaws-of-life" from her vehicle and taken by life-flight to the nearest trauma center.  The doctors gave Niki's family the prognosis that she "may not make it through the night."  Her injuries, internal and external were so severe that it seemed like she would not live through them.  Niki was placed in a drug-induced coma with an aortic aneurysm, broken legs, eight ribs, lacerated kidney, spleen and liver, broken spine, punctured lungs, and a nearly left severed arm.  After surviving, Niki came out of a coma after three days.  Much to the doctor's amazement, her vital signs began to turn around!  IT WAS A MIRACLE!  Through the faith of her family and a host of friends, God intervened on Niki's behalf.  Her recovery would not be as long as the doctors had projected.  Niki spent several weeks in ICU, after which she was transferred to a full-care nursing home facility.  It was there she spent the next several months learning how to walk again, as well as regaining the use of her arms and hands.  From the hospital bed to a wheelchair, then a walker and, finally a cane, Niki came out of the nursing home to return to work at Columbus State Community College on September 11, 2006, another MIRACLE!  And yet another MIRACLE took place on December 31, 2006; that was the date that Niki, with the aid of her family and a great team, planted the first Church that, three years earlier, God had given her a vision for!
A Senior Pastor, Niki can always be found doing the things that build lives, families, communities, and organizations.  In addition to her unwavering and unfaltering work with the Church, and with the community, Niki has worked with several major organizations (ROSS Labs, Columbia Gas, Columbus State Community College) and is now the President and CEO of her own consulting organization called Fifth Gear Consulting, Inc.  

"I am dedicated and firmly passionate and committed to being the best "PUSHER" that I can be.  
A hope PUSHER...Passion PUSHER...Purpose PUSHER...PEOPLE PUSHER."
Because Niki knows what it's like to PUSH past limits, obstacles, and adversities, her story will give every listener the strength to overcome the fatalities that come as a part of life.  Niki is an overcomer, courageously taking on each new day, showing others HOW they, too, can find their way!
Niki has earned the following:
~ "Women of Courage" award
~ BA - Organizational Leadership
~ MBA - Organizational Leadership
~ Pinnacle Honor Society recipient
~ Community Leader of the Year - Awarded by the Columbus City Council
Niki Hampton is also a wife, mother, and grandmother.  Niki is a mentor to many and a friend to many others.
Contact Niki Hampton for your next conference, seminar, workshop or event.
Contact Niki Hampton, MBA for * Leadership and Business Consulting at fifthgearconsulting.com