Event Information
Location
Four Homes in Coppell, TX
listed in details on ticket
Coppell, TX 75019
21st annual Coppell Holiday Home Tour is December 3 & 4
About this event
Coppell Holiday Home Tour is a charity fundraising event sponsored by the Assistance League of Coppell. It is the perfect way to celebrate the upcoming season as you walk through four beautiful homes, each with a unique design, decor and story to tell.
Dates and Times of Home Tour
Friday, December 3
10 a.m.–2 p.m. Candlelight Tour: 7 p.m.–9 p.m.
Saturday, December 4
10 a.m.–1 p.m.
Tickets
$25 in advance
$30 day of tour
Home Tour Addresses
Dave and Stephanie Jimenez
1519 Coventry Court (Wine Pull)
Charles and Debbie Hardin
312 Parkview Place
Robby and Kathy McBrayer
340 Meadowood Lane
The Becerra Home
326 Devon Drive (Raffle Items)
Childcare available at Kiddin' Around Coppell
Kiddin' Around Playcare, 144 W. Parkway Blvd. in Coppell, is offering a 25% discount on childcare for ticket holders during the Coppell Holiday Home Tour, plus the membership fee will be waived for new customers. Online registration is required prior to drop off at kiddinaroundcoppell.com. To receive your discount, remember to show the coupon in your home tour brochure when picking up your child. Please call 972-462-1300 for details.
Complimentary Dessert at J. Macklin's Grill
Stop by J. Macklin's Grill, 130 N. Denton Tap, for a complimentary holiday dessert when you present the J. Macklin's coupon in your 2021 Coppell Holiday Home Tour brochure. Offer valid December 3 and 4, 2021.
Assistance League of Coppell - Who We Are
Assistance League of Coppell is an all-volunteer, 501(c)(3) nonprofit organization, which has transformed the lives of children and adults in the Coppell area for over 20 years through a wide range of philanthropic programs. Last year we gave over $19,000 benefitting families, students and seniors in our area and made a difference in the lives of over 2,600 people. We fed families suffering from food insecurities, provided blankets, puzzles and fellowship to residents in local senior living centers and supplied area students with clothing and items needed to help them succeed in school. Money raised during Coppell Holiday Home Tour will be used to support these programs. Our chapter consist of both adult members and an Assisteens auxiliary which provides teens with opportunities for community service. For more information about our organization, please go to assistanceleague.org/coppell.
No outside food or drink or photography allowed inside the homes. No children under the age of 10. Tickets are good for one admission to each home. Tickets are nonrefundable unless Coppell Holiday Home Tour must be cancelled due to unforeseen circumstances.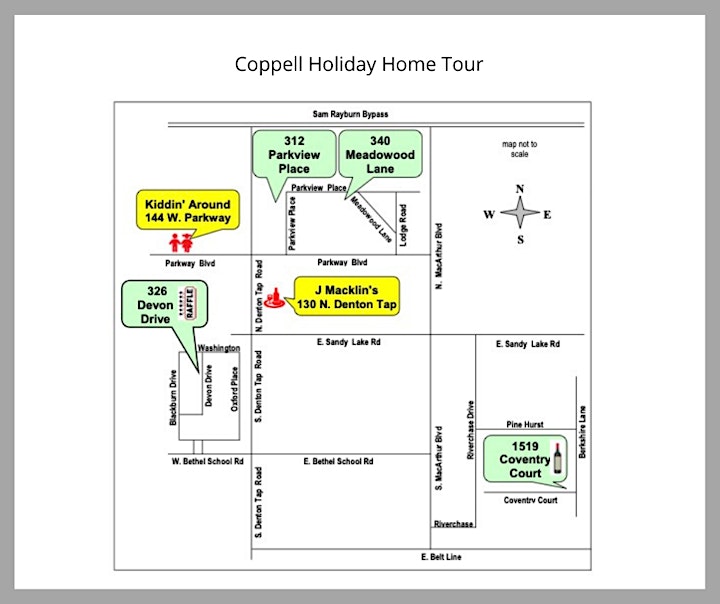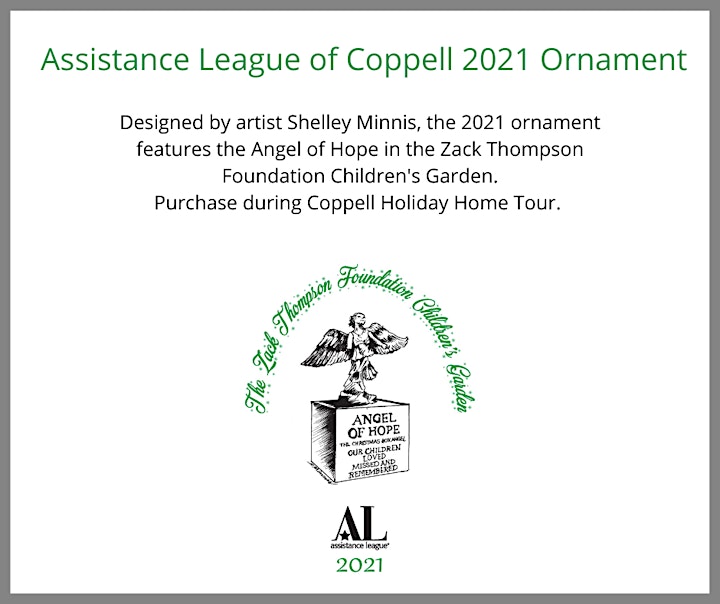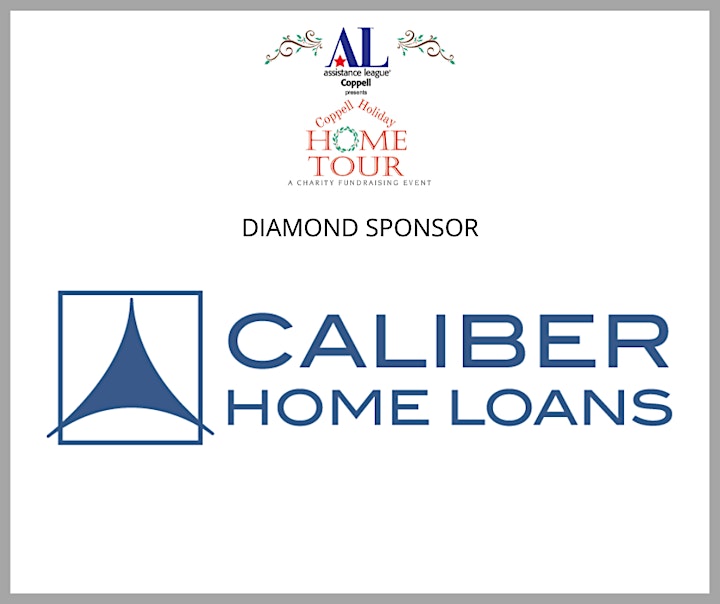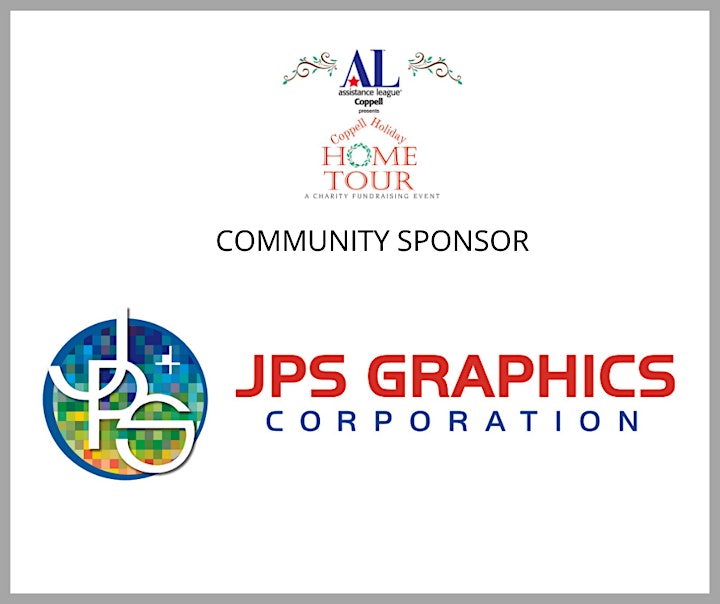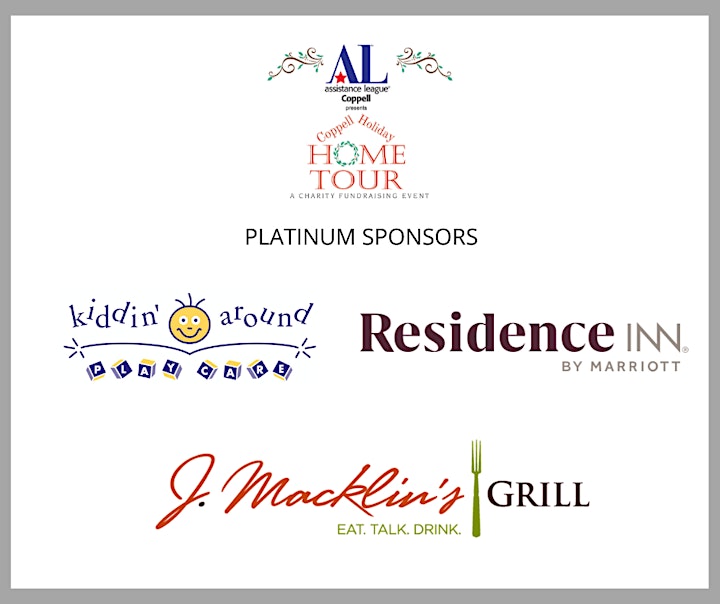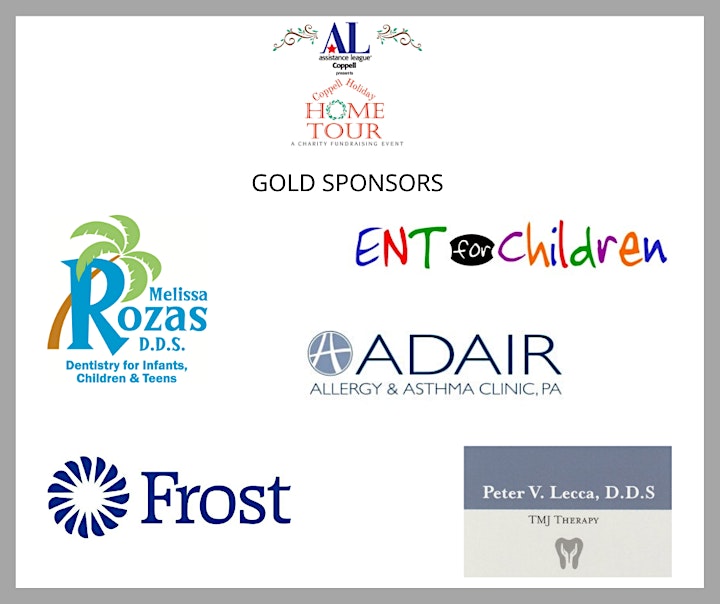 Location
Four Homes in Coppell, TX
listed in details on ticket
Coppell, TX 75019
Refund policy