A modern fairytale, told without words, Coppelia is a visually opulent adventure that blends live action ballet with charming animation.
About this event
As of 3:30pm on Saturday October 16, Online Ticket sales have ended. Tickets will still be available for purchase at the door with an additional $1 charge. See you soon!
Join us in our opening at the Fort Mason Center for Arts & Culture's Cowell Theater with the North American theatrical premiere of COPPELIA!
Coppelia
Director: Jeff Tudor, Steven De Beul, Ben Tesseur / Choreographer: Ted Brandsen; (Netherlands/Germany/Belgium, 2021) 80 min / Genre: Ballet
When everyone in town falls under the spell of charismatic cosmetic surgeon Doctor Coppelius, feisty Swan must act to save her sweetheart Franz, before his heart is used to spark life into Coppelia – the "perfect" robot-woman the Doctor has created.
Coppelia is a visually opulent fairytale that blends live action ballet with charming animation. In this playful reimagining of the original ballet, the magical Doctor Coppelius casts a spell that enchants the entire town.
The cast is comprised of acclaimed ballet dancers from around the world, with Michaela DePrince in the leading role as Swan. Michaela's celebrity stems not only from her work as a ballerina, but also as a writer, model and War Child ambassador.
Michaela DePrince will be in attendance at the Cowell for a post screening Q&A
4:30p | House Opens
5:00p-7:00p | Screening w/ Q&A Session
7:00p-7:30p | Meet & Greet in the lobby
7:30p | Reception @ The Hivery (across from the Cowell, limited capacity, VIP TICKETS ONLY)
Family Friendly Event!
Coppelia is a family friendly event. Tickets will be available for children ages 8 and up. Please note: This screening event is recommended for children ages 8 and up.
Featured Short: Fly Me to the Moon
Director: Kate Duhamel
Choreographer: Jenna Marie, Adji Cissoko
(United States, 2021) 2:48 min
Genre: Contemporary
Grammy-winner Ledisi sings a brand-new version of Bart Howard's classic, Fly Me to the Moon, with dancers from LINES Ballet and San Francisco Ballet, attired in bomber pilot jackets.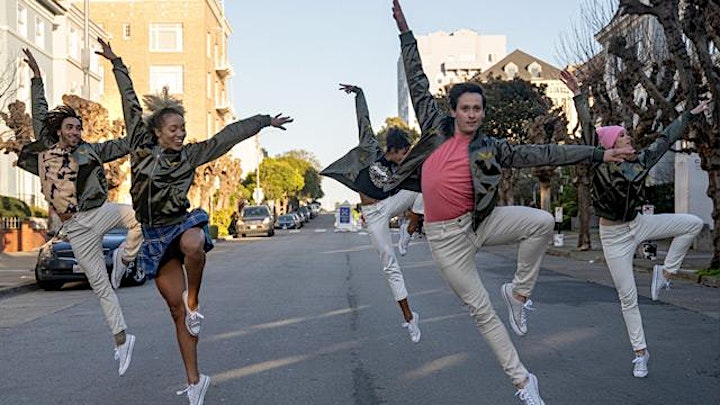 SFDFF continues to closely monitor current CDC health and safety guidelines.
MASKS
All attendees regardless of age wear masks at all times inside the theater when not eating or drinking.
COVID-19 VACCINATION
Attendees 12 years of age and older are required to bring a valid photo ID and COVID-19 vaccination records and will be required to show them during check in. Children ages 12 and younger will not need to show vaccination records or negative COVID-19 test.
To be considered fully vaccinated, attendees must have received their second dose of the two-dose COVID-19 vaccines or the single dose vaccine at least 14 days before attending the screening event.
The following vaccination records will be accepted:
– A vaccination card, showing fully vaccinated status
– A photo of your vaccination card, showing fully vaccinated status
– A digital vaccine record, which you can easily access here if you got your vaccine in CA: myvaccinerecord.cdph.ca.gov
To support future seasons, please consider making a charitable donation.
We recognize that many are facing unprecedented challenges and hardships and we hope our festival will offer a smile, a sense of hope, a provocative thought, inspiration or simply joy. Your ticket purchase and/or donation is crucial in supporting the SFDFF and its mission to present and support the artists whose creative works enrich us all.
Thank You! Proceeds support SFDFF at a time when we've been presented with significant challenges related to the pandemic. So, join us for these incredibly uplifting programs, and support SFDFF in the process.
DANCE FILM SF
Organizer of Coppelia | 2021 SF Dance Film Festival at Fort Mason Cowell Theater