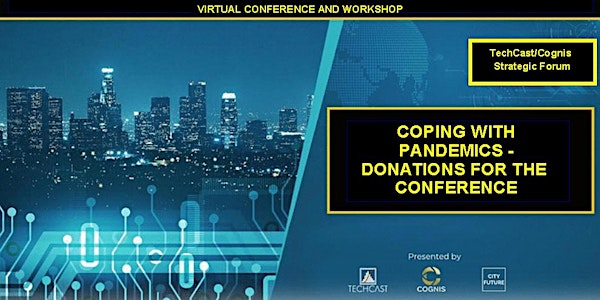 Coping with Pandemics - Donations for the July 28 Conference
Coping with Pandemics - Donations for the July 28 Conference
About this event
If you are planning to attend the Coping with Pandemics Conference we would be very appreciative if you could make a donation to help support that conference.
The pandemic and other threats like climate change pose an existential challenge to organizations everywhere, and they have made it clear that the present global order is not sustainable. The World Economic Forum called for "A Great Reset" in all spheres of society. Leaders in business, government and other institutions need to plan for transformative change – NOW.
The detailed program can be found HERE.
For questions and problems, contact Prof. Halal at Halal@GWU.edu.
Conference Begins at 2000 UTC (coordinated universal time)
Wednesday, July 28, 2021
1 pm PDT (Los Angeles, San Francisco)
4 pm EDT (New York, Washington, DC)
9 pm daylight time (London)
10 pm daylight time (Paris)
Thursday, July 29, 2021
6 am standard time (Seoul, Tokyo)
7 am standard time (Sydney)