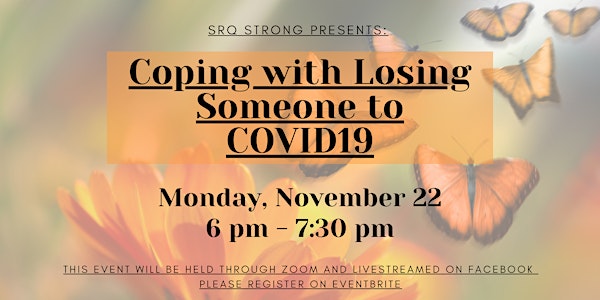 Coping With Losing Someone to COVID19
Coping With Losing Someone to COVID19
About this event
Losing a loved one at any time in our lives bears great weight on our mental, emotional, and physical state. For those who have lost someone to COVID19, the sudden and unexplainable tragedy takes a toll on individuals, families, and communities as a whole. Join SRQ Strong and featured speakers who will share their stories of navigating the loss of a loved one to COVID19, coping strategies, professional resources and supports offered in the community, and healing from the mass trauma of the pandemic.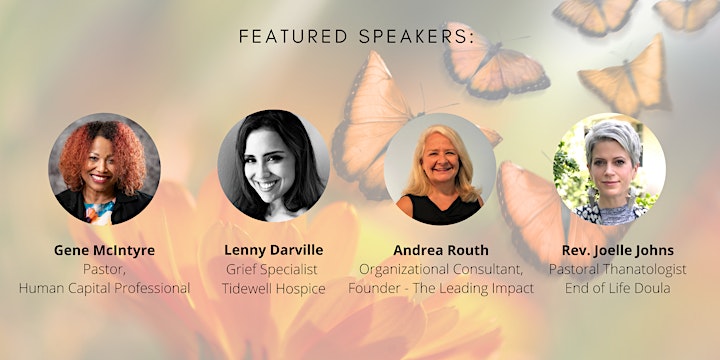 Featured Speakers:
Gene McIntyre is a passionate Christian, mother, wife, pastor, speaker, human capital professional and wellness and fitness enthusiast. She is crazy about life and people, fun and loud. She has also battled mental illness for as long as she can remember. Originally from Panama, Central America, Gene has been married to John McIntyre for 23 years and has two teenage children who also battle mental illness. Together, they are a ministerial family who has been devoted to support at-risk youth, adults, and families throughout the counties of Manatee and Sarasota. For the last thirteen years, they have served others through a local ministry they founded as a family, The Altar Congregation. NAMI found Gene McIntyre almost two years ago. Together, Gene and her husband John McIntyre facilitate Family Support Groups and take personal care of those who love people with mental illness. NAMI is an extension of her family mission of loving God and changing lives. She is committed to work to end the stigma associated with mental illness and support NAMI's efforts to advocate, support, and educate our community. Gene holds two bachelors' in business and Liberal Arts respectively, a Juris Doctorate with emphasis in Law & Political Sciences and studies in senior leadership. She is currently a Talent and Organizational Developer and a Human Capital Management Consultant. Gene´s husband, pastor John McIntyre, died unexpectedly from Covid on September 2nd, 2021. Now more than ever, pastor Gene understands pain at a different level and wishes to share her insights, as she herself pursues healing and restoration, in the hopes someone else going through a similar loss will find some comfort and hope for the future.
Lenny Darville is a bilingual grief specialist at Tidewell Hospice, co-founder of Not Alone SRQ and mother to a two-year-old girl and four spoiled dogs. She graduated with a master's degree in Clinical Mental Health Counseling. For the last three years she has focused on working with trauma survivors and bereaved. Lenny is passionate about empowering others to find their own purpose in life.
Andrea Routh is an attorney and the founder of The Leading Impact, LLC, where she serves as a coach, strategic thought partner, and advisor for non-profit executives, empowering and supporting them as they make big impacts in their communities and the world. She is an organizational consultant with 30 years of experience in executive management, strategic leadership, board development, facilitation, community engagement, and advocacy. Andrea has worked to educate communities and organizations about trauma, toxic stress, and Adverse Childhood Experiences (ACE's) and has been a member of Sarasota Strong's Planning Committee since 2018. She is co-chair of SRQ Strong's Aging, Trauma and Resilience Committee.
Rev. Joelle Johns has a background in psychiatric social work, addictions, and geriatric social services. She has been an elder guardian and is a fierce patient advocate. Working in social services administration in long-term care for several years, as well as working with hospice, Rev. Johns became aware of the need to have more deep and fruitful conversations surrounding death and dying. She is a death educator, pastoral grief counselor, and private duty end-of-life doula. She is also a certified Pastoral Thanatologist and ordained Interfaith Minister who has root traditions in Mahayana Buddhism and Christianity (UCC). Rev Johns currently works for Continuum Care Hospice as a Chaplain and is also doing a pastoral internship at St. Andrew United Church of Christ. She speaks on death and dying using contemplative, trauma-informed practices and recently held a workshop for the Cobb Institute in California.