Interact with inspiring speakers, attend guided meditation sessions and learn effective techniques for detox and stress elimination.
About this Event
Join us for an exciting and immersive experience of meditation.
6 sessions led by experts, entrepreneurs, and leaders at no cost to you.
Sign up for one session and get access to all six along with helpful training materials.
Due to the unprecedented COVID-19 situation, a lot of us are experiencing a significant surge in stress, fear, anxiety and burnout. The Heartfulness Institute, offers training programs across 130 countries and Millions of people across the globe have benefitted from this quiet movement.
We are offering six sessions that will help you to navigate these turbulent times. These practical sessions on meditation, rejuvenation, and other techniques will help you cultivate self-awareness and develop emotional harmony.
Discover answers to questions like:
How to manage my thoughts?
How much time should I meditate?
How to overcome past baggage?
How to focus better and ease stress?
We invite you to join us on this journey for self improvement. Please register today!
Keynote Speakers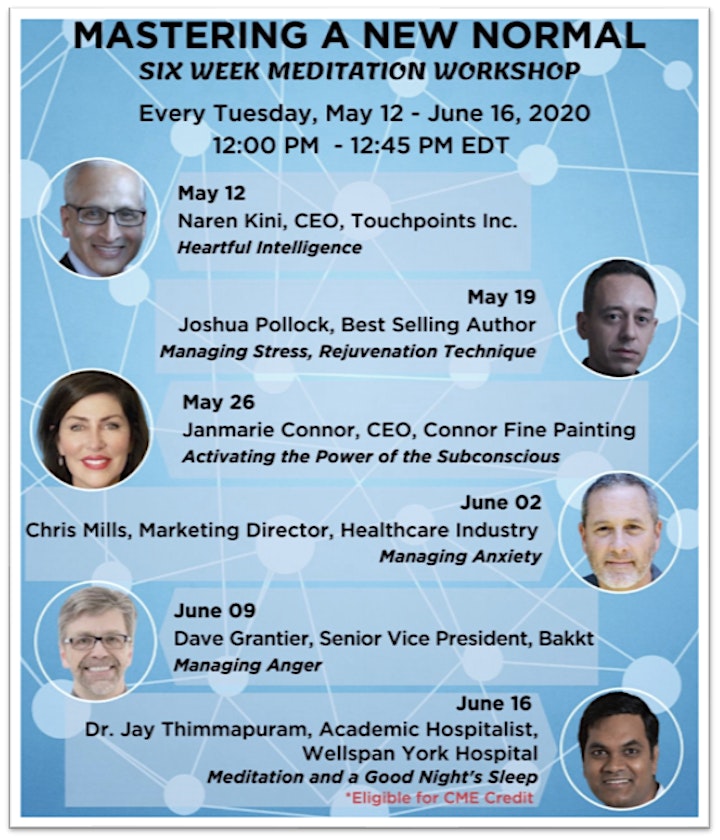 Some Participating Companies

FAQs
I have no prior experience in meditation. Is that an issue?
These sessions are open to all. We have great material and concepts for the novice and the more experience.
Do I need a yoga mat?
We recommend a comfortable seat and a distraction free environment. An office chair works just fine.
What time should we log in for the session?
Please login 10 minutes prior to the start of the session.
What do I need to bring to the session?
It would be great to have a journal handy for taking notes during the session.
How long is each session?
45 minutes for each session.
What if I have a question?
We can take questions and share them with the keynote speaker. Please send us an email at richmond.va@heartfulness.org
Are the sessions recorded?
Yes, sessions are recorded and we will send a recap to all those who register.
Are there ID or minimum age requirements to participate?
The minimum suggested age is 15 years. For children under 15 years age, we recommend relaxation and Brighter Minds exercises.
How can I contact the organizer with any questions? Please drop us an email at richmond.va@heartfulness.org
Is there a fee charged for the meditation?
All meditation services are offered for free.
Can I make a donation? Yes. Thank you for considering a contribution. All donations are tax exempt. Here is a link for you to make a donation to the Heartfulness Institute: https://donations.heartfulness.org/heartfulness-institute-donation-usa/