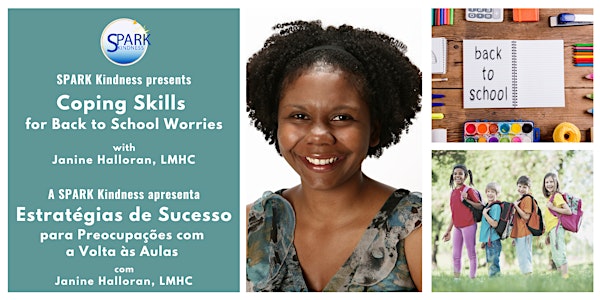 Coping Skills for Back to School Worries
Coping Skills for Back to School Worries with Janine Halloran, LMHC ~ Estratégias de Sucesso para Preocupações com a Volta às Aulas
About this event
Coping Skills for Back to School Worries
After more than a year of living with COVID, this back to school season poses unique challenges for children, teens and families. Join Janine Halloran, LMHC and founder of Coping Skills for Kids as she discusses simple and practical tips to ease the transition back to school this fall. She'll be sharing some ideas to help kids manage the expected back to school worries that will happen as we return to full time in-person learning and find our footing in this next phase of living through a pandemic.
Simultaneous ASL and Portuguese Language Interpretation will be provided at this event.
Estratégias de Sucesso para Preocupações com a Volta às Aulas
Depois de mais de um ano convivendo com a COVID-19, a volta às aulas apresenta desafios únicos para crianças, adolescentes e famílias. Junte-se a Janine Halloran, LMHC e fundadora da Estratégias de Sucesso para Crianças durante uma discussão onde ela apresentará dicas simples e práticas para facilitar a transição para a volta às aulas em Setembro. Janine irá compartilhar algumas ideias para ajudar crianças a lidar com as preocupações relacionadas a volta às aulas, que acontecerão quando voltarmos ao aprendizado em tempo integral e presencial e também a encontrarmos nosso equilíbrio nesta próxima fase durante uma pandemia.
Neste evento disponibilizaremos interpretação simultânea de ASL (Linguagem Americana de Sinais) e de Língua Portuguesa.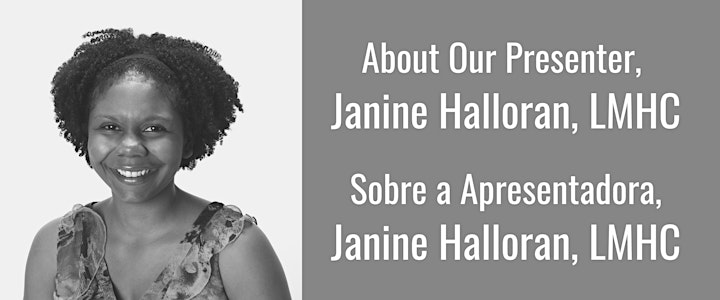 Janine Halloran is a Licensed Mental Health Counselor who has been working with children, teens, and their families for 20 years. She has been helping children and teens build their coping skills throughout her career in a variety of settings, including schools, mental health clinics and in her private practice. She is the author of several books, including the bestselling Coping Skills for Kids Workbook and the Coping Skills for Teens Workbook. Her work has been featured in the Boston Globe, Huffington Post, and The Skimm® Newsletter. Janine lives in Massachusetts with her husband and two children.