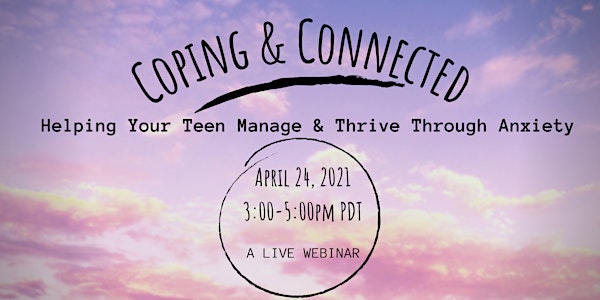 Coping & Connected: Helping Your Teen Manage & Thrive Through Anxiety
This FREE workshop will help you develop and strengthen skills to maintain a close parent/child relationship and healthy family functioning.
About this event
What you will takeaway from this LIVE webinar:
Understanding what anxiety looks like in teens
The difference between anxious behavior and a clinical disorder and how to respond
Five actions parents can take to empower their teen to manage the impact of anxiety on school performance and success
Why empathy matters more than "If/Then" statements
Ways to help your teen build resilience
How to talk about, model, and encourage frustration tolerance to reduce anxious thoughts
Why family life is so supportive in managing teen anxiety
How COVID 19 has increased anxiety and how to respond
Special considerations for LGBTQ+ teens presenting with anxiety
~ THIS IS A FREE LIVE WORKSHOP ~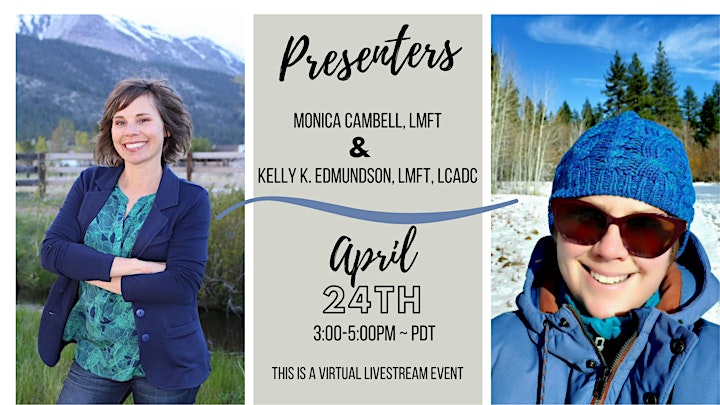 Monica Campbell, Psychotherapist
Licensed Marriage & Family Therapist
I've been working with teens, parents, and families for over nineteen years as a Licensed Marriage & Family Therapist and Art Therapist. My dedication and appreciation for learning about people and relationships has brought me to work with hospice, rural public schools, children in foster care, supervising interns, and in private practice.
I have a master's degree in Marriage, Family Therapy and Art Therapy from Notre Dame de Namur University, I'm a Registered Art Therapist, Provisional, and I'm trained in using EMDR. I'm a member of the American Association for Marriage and Family Therapists, the American Art Therapy Association, and a Parent Educator with Positive Discipline.
But here's what makes me an expert: I was once a teenager disconnected from her parents, and now I'm a parent restoring my relationship with my children over and over. As a teen, I remember needing to feel safe and reassured. As a parent, I am parenting right alongside you.
Learn more about Monica here
Kelly K. Edmundson, Psychotherapist
Licensed Marriage & Family Therapist
Licensed Clinical Alcohol & Drug Counselor
I have been working collaboratively with teens and families to achieve healing and growth in their relationships for over eleven years. My experience includes working with a broad range of clients in private practice as well as agency, community and K-12 school settings in California and Nevada. I have founded and facilitated several psychoeducational and therapeutic support groups for teens and parents.
As a member of the SOCC (Standards of Care Collective) in Northern NV, I provide reduced rate therapeutic services to transgender and gender-expansive individuals. I am a clinical fellow with the American Association for Marriage & Family Therapy and served on the Board of Directors for Nevada's Association for Marriage & Family Therapy. I am a member of the Nevada Coalition for Systemic Counseling and EMDR International Association.
My Master's degree in Counseling Psychology with an emphasis on Marriage & Family Therapy was obtained from Sofia University (Palo Alto, CA) and I hold a Bachelors degree in Fine Art Dance from Cornish College of the Arts (Seattle, WA).
In my free time, you will find me out exploring Lake Tahoe and the California coast with my own family and friends. I thrive being out in nature with my dog and enjoy SUP, mountain biking, yoga, backcountry and nordic skiing, golf, live music, travel, cooking and gardening.
I am committed to you developing and maintaining healthy functioning in your family relationships. I am the stepmom to an AMAZING human. I had the pleasure and honor of parenting her alongside her dad through the tumultuous tween years through the adventurous adult years (she is now 25). As a family systems trained therapist, I view the world through the lens that we are profoundly interconnected, and believe strongly in the power of individual healing through our close relationships. My approach is always collaborative, integrative, strengths-based and resilience informed.
Learn more about Kelly here