Event Information
Location
IT University of Copenhagen
7 Rued Langgaards Vej
Room 2A12-14 second floor
København, 2300
Description
Epic Games and Nordic Game Jam/IGDA Denmark would like to invite you to an Unreal Engine evening and presentation. The presentation will be hosted at IT University in Copenhagen from 18.30 onward on November 27.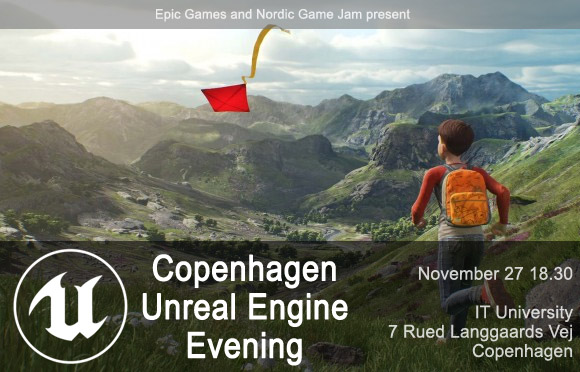 During the free event Unreal Engine Evangelist Sjoerd De Jong will welcome everyone and present an overview of where Unreal Engine 4 is at nowadays along with a technical presentation in which he will be build a cinematic between two robots fighting, thereby showing off the general workflow of the editor and the power of Sequencer.
In addition to that a few local Copenhagen UE4 studios will be showing off their games and their experiences working with the engine.
The evening is aimed the game dev community of the Copenhagen/Malmo area and everyone is warm welcome. Free drinks as part of the evening.
18.30 - Intro - Sjoerd and NGJ - Welcome and a quick update on Nordic Game Jam as well as an UE4 status update
18.45 - Local UE4 Studio (TBA)
19.00 - Local UE4 Studio (TBA)
19.15 - Epic Games - Sjoerd - Building a real time cinematic live and from scratch
20:15 - Pizzas and mingling
ABOUT NORDIC GAME JAM
Nordic Game Jam is expanding and on April 13-16 2018 you can join our Developer Conference, Game Jam, and a whole new Startup conference if you want to take your games to the next level! About 600 people will be joining the event from all over the world! Ticket sales are starting on December 1.
Date and Time
Location
IT University of Copenhagen
7 Rued Langgaards Vej
Room 2A12-14 second floor
København, 2300