Copenhagen Master Class Workshop 2017-I

Monday, March 13, 2017 at 9:00 AM

-

Tuesday, March 14, 2017 at 5:00 PM (CET)
Event Details


I et samarbejde mellem Scion DTU og Value Proposition Design Center udbydes Copenhagen Master Class Workshop 2017-I (CMCW17-I)
Det unikke workshop design for CMCW fokuserer på brugen af Value Proposition Canvas og værktøjerne til at designe, teste og udvikle, som er beskrevet i bogen Value Proposition Design. Se inspirationsvideo her: CMCW16
Workshoppen går i dybden med forretningsudvikling og design af nye produkter og serviceydelser. Metoden er en kombination af undervisning, træning, case arbejde med spændende opstartsvirksomheder, hvor du inviteres til at være med til at vurdere og diskutere deres værditilbud og forretningsmodel.
MASTER CLASS PROGRAM // NYT SKRÆDDERSYET VPD FORMAT!
Mandag 13. marts 2017, kl. 9 til 17, registrering og kaffe fra kl. 8.30
Tirsdag 14. marts 2017, kl. 9 til 17. 
Hvem bør deltage:
Enhver der er på jagt efter verdensklasse hands-on værktøjer til at arbejde med udvikling af værditilbud og forretningsmodeller. Du kunne være forretningsudvikler, virksomhedsejer, strategiansvarlig, innovationschef, business angel, iværksætter, vækstrådgiver eller business coach.   
Efter deltagelse på denne Master Class Workshop vil du:
Kunne designe, teste og levere produkter og serviceydelser kunderne vil have

Forstå mønstrene for værdiskabelse

Kunne anvende Value Proposition Canvas

Have kendskab til arketyperne for forretningsmodeller og værditilbud

Undgå at spilde tid på idéer der ikke vil fungere og reducere risikoen for fejl

Kunne designe en ny forretningsmodel med brug af Business Model Design Kit

Have erfaring med brugen af Lean Startup principperne
DAG 1: 13. marts 2017 - Value Proposition Design og Canvas
Dagen vi bestå af et mix af præsentationer, Q&A, gruppediskussioner og hands-on øvelser.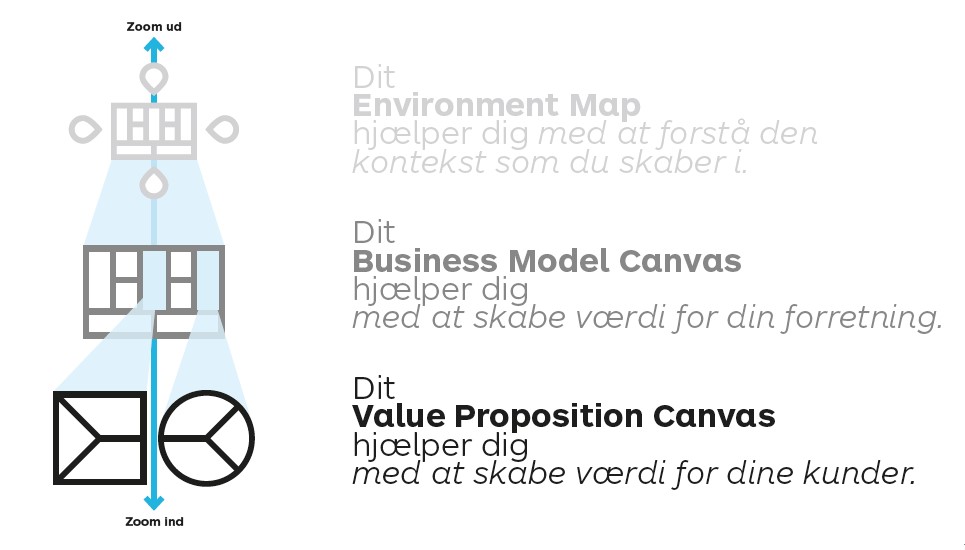 Velkomst og introduktion til model og metode for CMCW17-I
Design af Værditilbud
Definér og forstå dit udgangspunkt

Karakteristika ved stærke værditilbud

Muligheder med prototyper

Sådan opnår du en dyb kundeindsigt

Find den rigtige forretningsmodel til dit værditilbud
Value Proposition Canvas
Kundeprofilen: kundeopgaver, smerter og gevinster

Værdikortet: produkter og serviceydelser, smertestillere og gevinstskabere

Match mellem problem og løsning / Match mellem produkt og marked

Evaluér dit værditilbud


DAG 2: 14. marts 2017 - Test dit værditilbud og design din nye forretningsmodel. 
Dagen vi bestå af et mix af præsentationer, Q&A, gruppediskussioner og hands-on øvelser. 

Test din forretningsidé
Hvad skal testes?

De 10 testprincipper

Test trin-for-trin

Sådan bruger du Testkortet og Læringskortet
Test dit Værditilbud
Eksperiment Laboratorium

Integration af Lean Startup principperne

At samle det hele
Design af nye forretningsmodeller
De forretningsmæssige omgivelser og dynamikken ifm. Disruption

At forstå hvad forretningsmodeller er og hvorfor de er så vigtige at arbejde med konstant

Design jeres egen forretningsmodel - Business Model Design Kit

WORKSHOP TEAM 
Professor Christian Nielsen, Business Model Design Center
Medforfatter til bogen Kick Ass Companies: Leveraging business models with great leadership. Business Model Design Center er verdens første tværdisciplinære center for forskning i forretningsmodeller.
Assistant Professor Morten Lund, Business Model Design Center
Kursusansvarlig for New Venture Creation semestret ved Aalborg Universitet. BMDC overfører forskningsresultater til praktisk anvendelige værktøjer der bruges af forretningsudviklere i hele verden.
Filminstruktør og Illustrator Thor F. Jensen, Business Model Design Center
Har specialiseret sig i visualisering af idéer til værditilbud og forretningsmodeller ved brug af tegninger, billeder og film. Har vundet to filmpriser for dokumentarfilm om hans egne eventyrlige naturoplevelser. 
Johan de Renouard, Value Proposition Design Center
Johan de Renouard er forretningsudvikler og forlagsejer. Han har arbejdet med forretningsudvikling og strategi i private og offentlige organisationer i en årrække og driver forlaget 4Mativ der er Thinkers50 partner for bøger og eBøger.
Alt det med småt: 
Billetprisen inkluderer dit helt eget CMCW workshop toolkit, en bogpakke og en goodie bag til en samlet værdi af 1.500 Kr. Bogpakken indeholder den danske udgave af bøgerne Value Proposition Design og Gamechangers.
Husk at udnytte grupperabatten ved køb af mindst 3 billetter!
Afbestillings betingelser: 
Ved afbud inden 1. marts refunderes det fulde betalte beløb.
Ved afbud efter 1. marts refunderes 50% af billetprisen.
Det er muligt helt frem til workshopstart den 13. marts kl. 9 at ændre på deltagernavnene og sende en afløser. 
When & Where

Søhuset konferencecenter
10 Venlighedsvej
2970 Hørsholm
Denmark


Monday, March 13, 2017 at 9:00 AM

-

Tuesday, March 14, 2017 at 5:00 PM (CET)
Add to my calendar
Organizer
Scion DTU er basalt set tusinder af specialindrettede kvadratmeter, der er særligt skabt til at understøtte højteknologiske iværksættere. Hos Scion DTU får du adgang til laboratorier, prototypeværksteder, fælles reception, konferencecenter og kantine. Vi sikrer, at du får et netværk med andre iværksættere, og vi faciliterer gerne et tæt samarbejde med nogle af verdens bedste forskere på DTU. Endvidere giver vi virksomhederne direkte adgang til højt kvalificerede mentorer, der selv er og har været succesfulde iværksættere. Du kommer ind i et miljø, der samtidig huser kapitalstærke investorer. Vi sikrer med andre ord, at iværksætterne kan koncentrere sig om deres virksomheder, idéer samt om udviklingen af deres produkter. Resultaterne taler sit tydelige sprog. I Scion DTU vokser virksomhederne hurtigere end virksomhederne i det øvrige Danmark. www.sciondtu.dk
Value Proposition Design Center er centrum for Value Proposition Design i Danmark. Vi samarbejder med Thinkers50, Business Model Design Center og Stattys for at kunne tilbyde vores kunder verdensklasse koncepter inden for udvikling af forretningsmodeller, design af værditilbud, innovation og strategi. Vi ejer de danske rettigheder til bøgerne Value Proposition Design, Gamechangers, Design A Better Business, Gear Up, Must-Win Battles, Strategic Analysis and Action og Beating Low Cost Competition. www.vpdc.dk