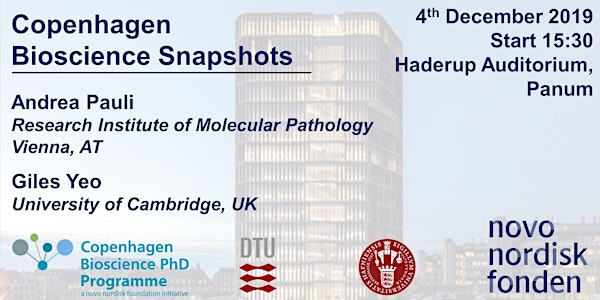 Copenhagen Bioscience Snapshots
When and where
Location
Victor Haderup Auditorium Panum Institute Blegdamsvej 3b 2200 København N Denmark
Description
The Copenhagen Bioscience Snapshots seminars are a series of 4 events organized by PhD students of the Copenhagen Bioscience PhD programme. The seminars host speakers from different scientific backgrounds and end with a networking event with the aim to connect a broad audience of scientists.On December 4th we will welcome two guest speakers, Andrea Pauli (Research Institute of Molecular Pathology (IMP), Vienna, AT) and Giles Yeo (University of Cambridge, UK).
Dr. Andrea Pauli is a group leader at the IMP in Vienna studying how oocytes transition to embryos. Her research focusses on the regulation of fertilization, translational regulation during embryogenesis, and the regulation of gastrulation movements. She recently discovered the protein Bouncer as a species-specific fertilisation factor in zebrafish.
Dr. Giles Yeo is a group leader at the Department of Clinical Biochemistry at the University of Cambridge investigating how the brains controls body weight. He works on identifying new players in the hypothalamic control of energy balance using single cell sequencing and single-molecule FISH. Furthermore, his group studies metabolic homeostasis pathways using Drosophila as a model system and the role of the non-coding RNAs Snord116 in the aetiology of Prader-Willi Syndrome (PWS).
PROGRAMME
Place: Haderup Auditorium, Panum
15:30-16:30 Andrea Pauli: "Small proteins with big roles – from cell migration to species-specific fertilization"
16:30-17:30 Giles Yeo: "Is obesity a choice?"
17.30-18:30 Networking with snacks and drinks
REGISTRATION
Registration is free of charge. By registering you are helping us to better estimate the number of people that will attend and food and drinks needed. Thank you for registering!