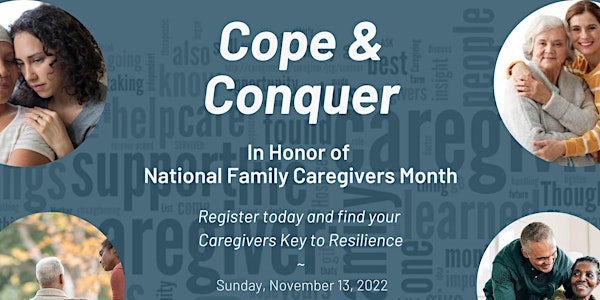 Cope and Conquer: The Key to Caregivers Resilience
Cope and Conquer: The Key to Caregivers Resilience
About this event
As a caregiver myself, I have had to conquer challenges by trial and error. That is why I decided to bring our thought-provoking workshop to you and give you guidance and practical strategies to become more resilient and cope better with the life stresses we all face daily as caregivers.
This program is heavily based on our signature course, "Finding Your Way to Resilience...Now! Discover Strength and Resilience in Challenging Times".
In this workshop, you'll discover a step-by-step process for training your "resilience muscle." You'll learn exactly how you can improve your ability to remain calm under pressure and handle challenging situations with confidence.
In our signature program, Finding Your Way to Resilience...Now, you'll discover:
● The ONE belief that enables to you face even the toughest situations without giving up
● The behavior you learned as a kid that can keep you stuck as an adult— and how to break free
● How ordinary people learn to survive even the most desperate situations — and what they can teach you about overcoming everyday challenges in your own life
● The 5-minute trick for dissolving a scarcity mindset, so you can find more options, resources, and possibilities
● How to use the WOOP method to avoid being derailed by unexpected obstacles
● How to train yourself to bounce back faster after upsets and setbacks
● How to shift your identity, so strength and resilience become automatic for you
When you join the workshop, you'll learn the secrets that some of the most successful, most resilient people have used to confidently navigate even the stormiest weather.
Our online course is self-guided with printable exercises and a full course content workbook. However, for those that jump on the offer to attend the event, you will get the course, all material, PLUS an additional self-study course complimentary valued at $97.
****************************************************
Please be advised: This event is NOT FREE. Early bird is only 47.00 which will be invoiced.
You must RSVP here using Eventbrite and then the complete confirmation will be provided once you have paid via PayPal or Strip invoice (no payments with Eventbrite). If for any reason you are unable to attend after you have paid in full, we will still grant access to the online course effective on the day of the event and would be happy to schedule a private 30 -minute call, if requested. The online course will be available to you for a minimum of 6 months. All course materials will be made available digitially, as well as access to online self-study after the workshop.