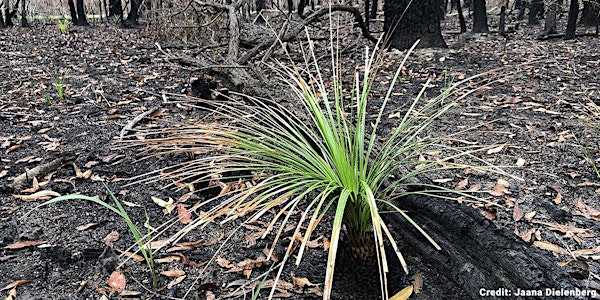 Coordinating to protect culture & biodiversity in the heat of wildfires
Lessons learnt for protecting culture, biodiversity, and threatened species during wildfires
About this event
The 2019-2020 fires were catastrophic for biodiversity and communities, burning more than 12 million hectares. This extreme event tested the capacity of people and systems across several states to conserve threatened species and ecological communities, and highlighted the urgency for resourcing Indigenous burning practices. It's clear we need roadmaps to direct conservation decision making during future fire events and to enhance Indigenous aspirations for fire management.
This webinar brings together perspectives from biodiversity experts, managers and policy makers to discuss what we can learn from these events, and what systems or responses are needed to better protect biodiversity and empower Indigenous leadership in the heat of bushfire events.
Speakers and panelists:
Libby Rumpff - Senior Research Fellow, University of Melbourne
Kelly de Bie - Research Fellow, University of Melbourne
Oliver Costello - Threatened Species Recovery Hub Indigenous Reference Group
Fiona Fraser - Acting Threatened Species Commissioner
Luc Farago - Manager Land Services, Northern Tablelands Local Land Services
Anne Buchan - Victorian Government Department of Environment, Land Water and Planning
Facilitator:
Rachel Morgain - Knowledge Broker, Threatened Species Recovery Hub and NRM Regions Australia
This webinar is jointly supported by the NESP Threatened Species Recovery Hub, the Australian Government Department of Agriculture, Water and the Environment and NRM Regions Australia.