Multiple Dates
Cooperative Parenting & Divorce
Description
Are you separating/divorcing and have children under the age of 18? Join the New Parent Support Program to learn ways to control impulses, communicate effectively, and resolve conflict to keep the child's wellbeing in focus.
This FREE class for Active Duty & Retired Military fulfills the most common court requirements for a parent education class prior to granting custody or visitation orders.
Registration required.
---
Call 703.614.7208 or 703.693.1160 with questions
---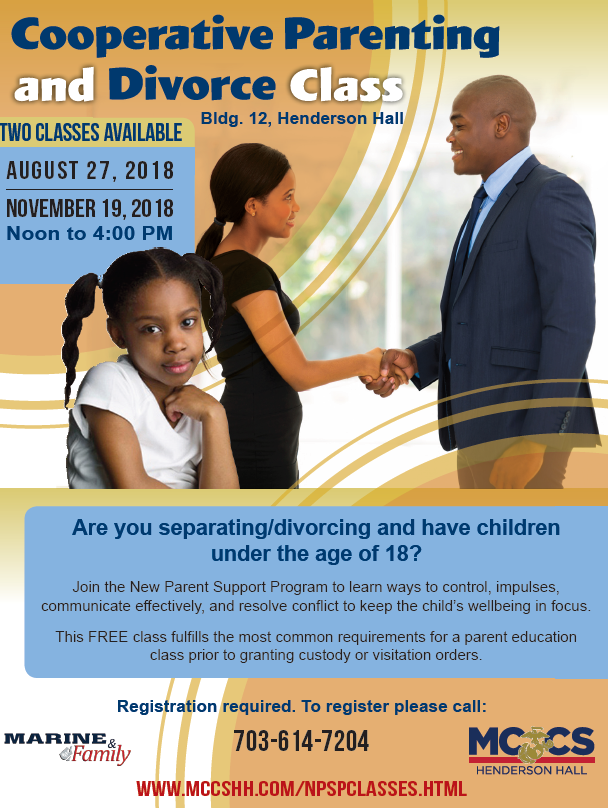 FAQs
Who is eligible to attend?
Individuals who are eligible to be seen in a military treatment facility are eligible to attend this FREE course.
Will this fulfill my court's requirements for a co-parenting course?
Many courts will accept this course, but not all court systems will. For the most accurate information please contact your court and rely the course goals and the class duration of 4 hours. Even if you do not need this course for court, it will provide you with effective skills to minimize disruptive communication with you co-parent and increase efficient care of the child.
What should I wear to the class?
Please come in civillian atire and dress in layers as the room may fluctuate in tempature.
Does my co-parent need to come with me? Should they?
No, this course is complete by one parent at a time. The alternate parent may participate in a different session if they would like to.