Description
Intro to Design Thinking
See how Design Thinking can change the way you approach problems.
Have you heard the terms "Design Thinking" or "Human-Centered Design" and thought, "That sounds cool, but what exactly is it?" In this half-day, hands-on workshop, the Cooper Team will introduce you to the power of Design Thinking. You'll learn the process of this strategic problem-solving approach, and how it can help you and your organization rethink the products, services, and experiences you offer to both internal and external audiences. The workshop will allow you to learn and practice a few Design Thinking tools and empower you to make your work more collaborative, innovative, and effective.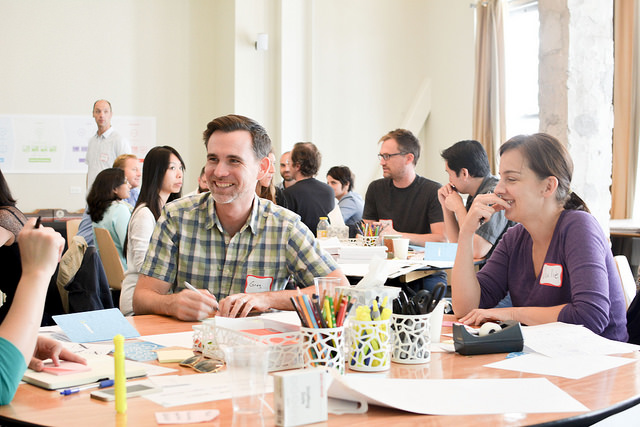 You'll walk away knowing how to:
Describe the benefits of Design Thinking

Interview your target audience to gain insights into their goals and needs

Explore a range of possible solutions to address audience needs

Use storytelling to refine and evaluate a potential solution

Examine problems from your audience's perspective

Consider how to apply Design Thinking in your daily work
---
About Cooper training:
Founded in San Francisco in 1992, Cooper is a renowned UX design & strategy firm that has pioneered the practice of goal-directed product and service design.
Drawing from their 23+ years of industry experience, Cooper offers professional development education for UX / UI designers, product managers, and anyone involved in the product or service design process. Over 7,000 designers have advanced their skills through our short courses and workshops, as well as private training.
---
Related courses and workshops

Want more Cooper training?
Find our complete course and workshop list here: www.cooper.com/training
---
Cancellation Policy
We know things happen. If you need to cancel your registration, notify us by emailing cooperu@cooper.com at least 30 days prior to the course and we will refund your full payment. Less than 30 days prior to the course, there are no refunds available. Alternatively, you can transfer your registration once to another course within one year of the date of cancellation or assign another individual from your organization to take your place. Once your registration is transferred, you may no longer receive a refund.