Description
Facilitating Design Thinking


Level-up your facilitation skills to plan collaborative sessions, lead your team to breakthrough ideas and solutions, and spark creative momentum.
Facilitation is a powerful mechanism for collaboration, and collaboration is key to working and innovating in a human- centric way. In this two-day course, you will build confidence in facilitating sessions that lead to greater creativity, understanding, and alignment on your team.
We'll review a variety of methods and reflect on the role and mindset of a successful facilitator. We'll help you identify where you want to grow, practice facilitating sessions and define a plan for incorporating collaborative facilitation into your work. By honing your facilitation skills, you'll learn how to frame the right problem, set the right tone, and guide important conversations to more impactful and actionable outcomes.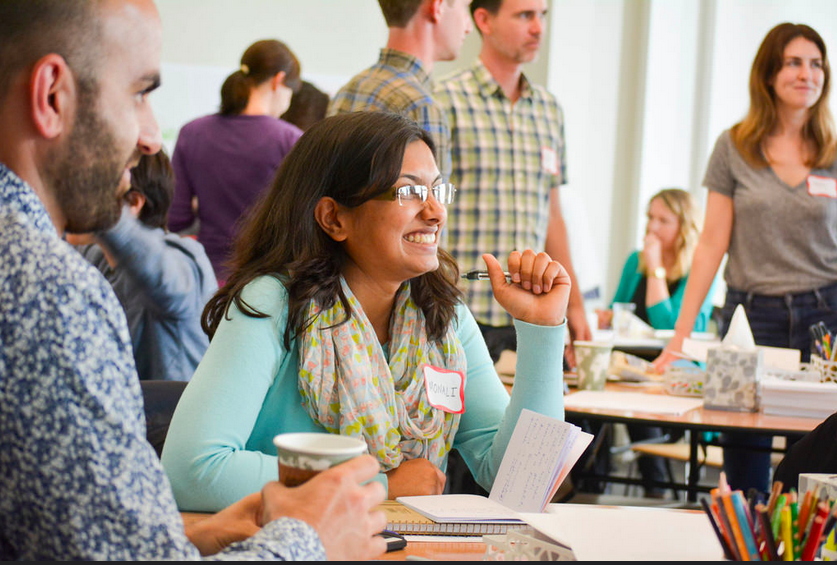 You'll walk away knowing how to:
Facilitate sessions to produce more team alignment and creativity.

Manage energy and create a safe space to encourage full-team participation.

Guide your team to focus on reaching their desired outcomes.

Invite curiosity to explore new ways of looking at the problem and potential solutions.

Plan your facilitation using a framework that drives the discussion toward clarity and action.

Improve your facilitation skills through practice, personalized feedback, and setting concrete goals.
This course is ideal for:

Project leads, strategic teams, and those looking to guide their teams or organizations through more effective, engaging, and actionable collaboration sessions.
* Note: this course was previously known as Leading Creative Ideation.
---
About Cooper Professional Education:
Cooper Professional Education is a team of educators within Designit that helps organizations adopt a human-centered approach to innovation. Through our global programs and courses, we offer the right mindset, methodology, and tools to build collaborative and creative cultures.
Our team formed in 2001 as a professional development initiative at Cooper, one of the first interaction design firms. Cooper was founded by Sue and Alan Cooper, a pioneer of the modern computing era who created the programming language Visual Basic. Methods like goal-directed design, design persona, and pair design were born in our offices, and we wrote industry-standard books on design practice like "About Face."
In 2017, Cooper became part of Designit, a global strategic design firm that specializes in creating high-impact products, services, systems, and spaces that people love. Designit is a part of Wipro, one of the largest technology, consulting, and business companies in the world.
We're thrilled to join our new global family and bundle our forces on a joint mission: helping companies innovate and transform. And as an integral team within Designit, we can now offer education by experienced teachers under a new name. Today, we offer education services in North America, South America, Europe, India, and Australia, and we're excited to help even more people as we grow.
---
Related courses:
Interested in more Cooper Professional Education courses and programs?
Find out more on our website: https://www.cooper.com/
---
Cancellation Policy
We know things happen. If you need to cancel your registration, reach out to cpe.support.na@designit.com at least 30 days prior and we'll refund your full payment.
Fewer than 30 days prior to the course, refunds are not available. You can also choose to transfer your registration (you can only do this once) to another course within one year of the date of cancellation, or assign another individual from your organization to take your place. Once your registration is transferred, you may no longer receive a refund.