Cooper Campfire Celebration - Recognizing 100 Outstanding Tucson Teachers
Join Camp Cooper staff & supporters in an evening celebration to recognize & award100 outstanding Tucson teachers! Music, dinner & more!
About this event
In all kinds of ways, both on screen and behind the scenes, educators throughout our community have risen to the challenges presented by teaching during a pandemic. Tucson's outstanding teachers have kept students engaged and inspired, while helping our community stay connected in a time of change.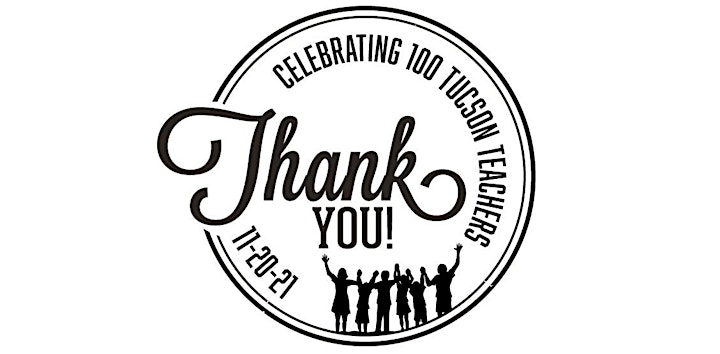 That is why this year, Camp Cooper staff and supporters will recognize and award 100 Outstanding Tucson Teachers at our first public event in over two years.
This unforgettable evening event will begin with musical entertainment from Tucson trio (and Camp Cooper alumni), The Desert Music Project. Dinner will be prepared by San Xavier Co-op Farm, where every meal begins with traditional foods grown on the farm or sourced locally. After a teacher recognition ceremony, storyteller Ron Lancaster will captivate and transport us through the power of story around a campfire.
We encourage you to nominate an outstanding teacher for recognition and awards at our ceremony. Teachers will be given a $100 gift bag with heartfelt gifts and gift certificates thanks the generous support of our sponsors.
Questions & Answers
Q. Do I need to print & bring tickets?
A. No, we will just check your name at the event.
Q. What should I wear?
A. Dress comfortably - this is not a formal wear occasion. Our camp has no paved paths - so wear trail-friendly shoes. Temps will be in the 60s during the event.
Q. What about COVID safety?
A .Event will take place 100% outdoors. Guests are expected to wear masks at all times except when actively eating or drinking.
Q. What is the schedule of the event?
A. Times are approximate: 4 - 5pm (arrival & dinner), 5 - 6pm (ceremony & storytelling), 6 - 7pm (stargazing and mingling).
Q. What about parking?
A. To accommodate a large crowd, we use the parking area of the adjacent COTA facility and we will run a shuttle van to transport you from the COTA parking area to Camp. Signage will direct you.
Q. What is being served for dinner?
A. We will grill flank steak on site, and will have salad, a vegetarian soup, bread as well as beverages. Food is sourced locally and will be catered by San Xavier Co-op Farm.
Q. Will El Tour De Tucson affect getting to Camp Cooper?
A. The 28 mi route for the tour does travel briefly along Grant/Ironwood Hill on the way toward Camino de Oeste. We recommend heading west on Speedway.
Q. What if I need an extra ticket, or need to cancel a ticket?
A. Simply email natebyerley@arizona.edu and we can adjust your tickets as necessary.
Thank you to our sponsors.

Organizer of Cooper Campfire Celebration - Recognizing 100 Outstanding Tucson Teachers