Description
Applied UX Design Intensive
Exercise your design chops by solving a real-world problem for a client doing social good.
The Applied UX Design Intensive is an opportunity for product and service design professionals to challenge their skills, solve real-world problems, and learn by doing.
Over 4 days, you will work with stakeholder at Leading Through Connection (LTC) to creatively scale their leadership program. LTC was born out of the Dalai Lama Fellows program and has trained over 100 leaders in 36 countries, including leaders from Facebook, Google, GoPro, and Y Combinator.
You will help LTC design new student engagement strategies and create an ecosystem around their leadership program to engage past students and encourage them to advocate the program.
You will design within organizational constraints like limited access to resources, and your active immersion and collaboration will teach you more than a regular course ever could. Best of all, your solutions will help LTC expand their services to develop world-changing leaders.
You will walk away from this four-day intensive workshop knowing how to:
Apply your skills to a completely new challenge outside of your domain

Advance your UX design techniques under the guidance of industry leaders

Energize your practice and make new connections by working on a real-world challenge with peers from around the world

Pick up leadership and collaboration skills that will help you better navigate your work environment

Surprise yourself with how much you can do in a matter of days!
About Leading through Connection:
Leading through Connection (LTC) is a non-profit leadership development program focused on enabling leaders to deepen their capacity to know themselves and relate to others. LTC is unique in that it draws from practices that are universal, practical, and relevant across cultures.The program, inspired by Dalai Lama Fellows, leverages the experience of over 6 years of delivering training to leaders from over 36 countries.
This course is ideal for:
Designers, developers, and product managers from around the world who want to immerse themselves in design methods and build their design toolkit.
*This course was previously known as the UX Boot Camp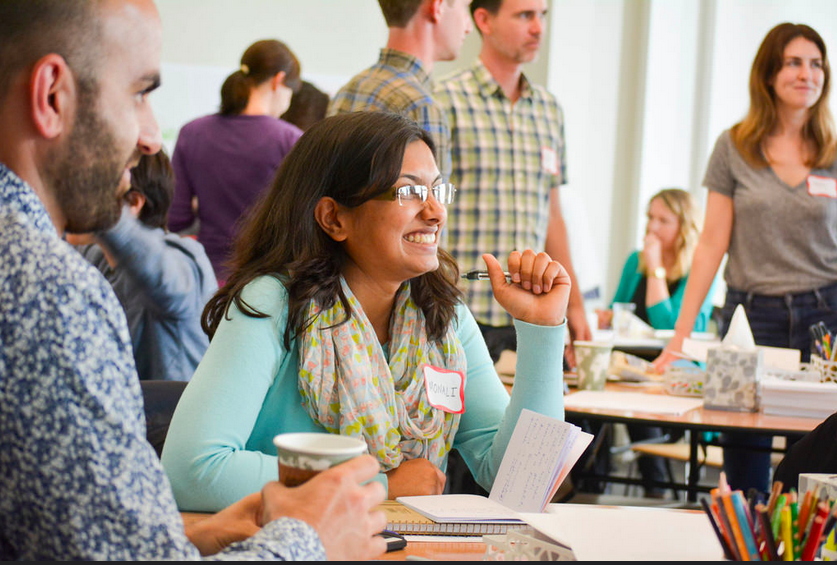 Testimonials
"Working directly with a real client and conducting research interviews with real people was unlike any of the other training experiences I've had over the years. Learning with written case studies is good, but there's no substitute for the real deal. People are unpredictable. Cooper is giving students a chance to learn, fail fast, and not lose their job in the process."
- Megan Ellinger, National Academy of Sciences
"The workshop training was grounded in delivering real value to stakeholders. The expectation of a concrete deliverable created a positive stress that motivated learning, engagement and team building amongst attendees."
- Shawn Crowley, Atomic Object
"Most conferences are set up to give you a shotgun of bite-size information as you move from session to session. UX Boot Camp was critical to me in that it was comprehensive and consistent with its teaching. I got the whole picture of UX skills alongside some in-the-trench experience."
-Matthew Ensor, The Lampo Group
---
About Cooper training:
Founded in 1992 by Sue Cooper and Alan Cooper, the "Father of Visual Basic", Cooper is an award-winning design and business strategy consultancy, with offices in San Francisco and New York. Our mission is to help organizations think big, create delight, and achieve success. We approach every engagement with fresh eyes and a proven framework. Through Cooper Professional Education, we share the best practices we developed, and empower participants and clients to create superlative products and services.
---

Related courses and workshops
Design Research Techniques
Leading Creative Ideation
Design Leadership
Interested in even more Cooper training?
Find out about the rest of our courses & workshops here: www.cooper.com/training
---
Cancellation Policy
We know things happen. If you need to cancel your registration, notify us by emailing training@cooper.com at least 30 days prior to the course and we will refund your full payment. Less than 30 days prior to the course, there are no refunds available. Alternatively, you can transfer your registration once to another course within one year of the date of cancellation or assign another individual from your organization to take your place. Once your registration is transferred, you may no longer receive a refund.