Cool Under Fire, with Marianne Fleischer

Saturday, October 25, 2014 from 2:00 PM to 5:30 PM (PDT)
Event Details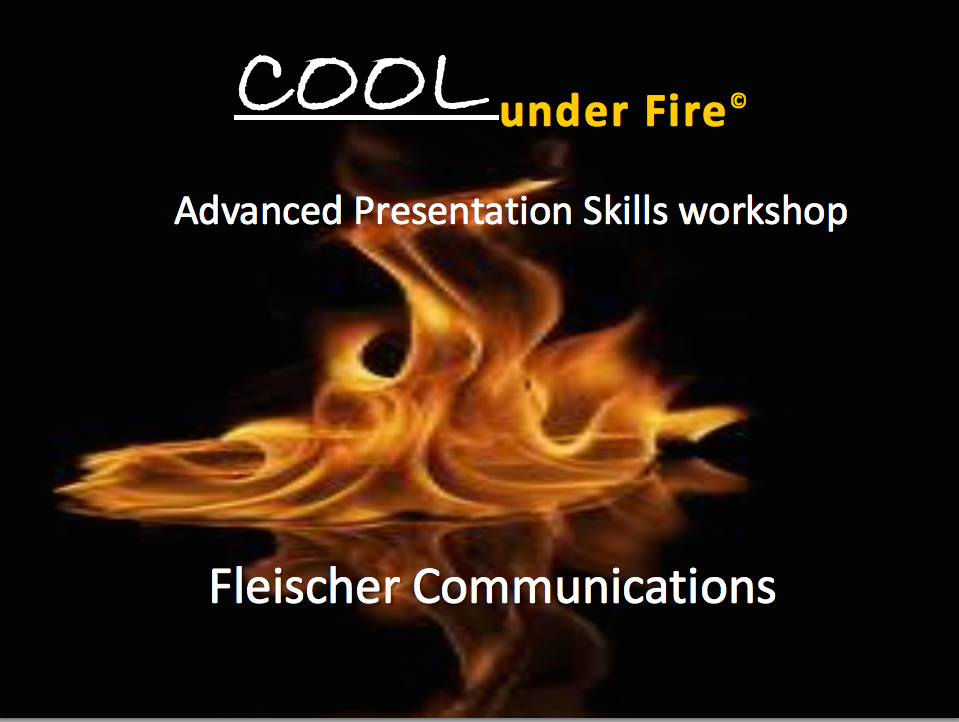 Want to learn to get better thinking on your feet--instead of thinking "I  wish I had said that in the heat of the moment at work?"  In this lively 3.5 hour Saturday workshop you'll learn specific public speaking techniques to help you handle tough Q & A. You'll learn to manage Performance Anxiety through a new fascinating lens of Neuroscience findings. Through big fun IMPROV games you'll gain confidence being more agile off-the-cuff, the way Improv practitioners take on whatever is thrown at them. Join other working people who want to get better under the spotlight and off-the-cuff.
In this Masters class in Presentation Skills--taught by a former TV newscaster, Corporate Communications strategist and lifelong Improviser--you'll practice challenging and fun "WHAT IF" scenarios straight from the playbook of your work life. As we grow in our careers, we pitch ideas to leaders, ask for funding, roll out changes--tangle with partners and peers. As we grow as thought leaders we are asked to be on panels, do media interviews, represent our organizations as thought leaders to the larger world.
How well do you hold your own in these high stakes presentations? Being able to wield influence can propel--or impede your career. When you're in the hot seat, do you get buy-in or fail to inspire? Can you turn critics into advocates? When you are under fire can you win hearts and budgets--or freeze up?
COOL UNDER FIRE is a lively, hands-on training in a safe environment to take risks. You'll learn to:
- Read a room and switch gears
- Reframe a conversation when the tide has turned
- Fuel your own conviction so you inspire others
- Handle "grandstanders", aggressive types or people who cut you short
- Present controversial news
- Learn the architecture of an anecdote--and how to tell one better

Seats are limited for the best interactive experience. People are hungry for high quality, human connection. COOL UNDER FIRE, with its IMPROV format delivers a great collaborative experience.  Here's a fresh, creative way to spend an unforgettable Saturday afternoon.
Attendee List
Sort by:

Date

|

First Name

|

Last Name
When & Where

Fort Mason Center
2 Marina Blvd
Bldg. C, Room 260
San Francisco, CA 94123


Saturday, October 25, 2014 from 2:00 PM to 5:30 PM (PDT)
Add to my calendar
Organizer
Marianne Fleischer has Street Cred. Once as a TV newscaster she was caught in a tornado and had to ad lib on the air for hours. Today as a senior Communications strategist and senior Creative, she has advised leaders at Fortune 500 firms such as Genentech, Apple,HP, WebEx, Sony, Esquire Magazine, PBS-TV, NBC-TVV, and executive directors at non-profits like San Francisco Volunteers, Farm Trails, Jewish Community Center of San Francisco and Volunteer Center of Sonoma County.
Ms. Fleischer has been both on-air talent and documentary & talk show writer-producer in San Francisco and Back East. Her Masters degree is in Communications & Rhetorical Theory from University of Massachuetts, Amherst. Her theater background and lifelong practice of Improv Comedy spark her workshops' spontenaity.