Multiple Dates
Cool 'Hood Champs Program: A workshop to teach Local Climate Action
Want to become a Champion for Climate Action? Learn what you can do to climate-proof your neighbourhood and empower others to get involved:
About this event
Ever wondered what you can do to fight the climate crisis where you live? Often find yourself thinking about how to be part of the solution, given the global Climate Strikes and Climate Emergency? Want to learn what climate change means for your neighbourhood? Then come join us for 3 in-person and 2 online workshops, where you'll develop your skills in championing climate actions with your friends, family, colleagues & neighbours!
3 in-person workshop series at Killarney:
Feb 29, 10am - 12.30pm What climate change means to your neighbourhood: This workshop will review the science on climate change and regional climate projections for Metro Vancouver. You will then apply this to your neighbourhood and explore its greatest needs using the Citizen's Coolkit - COMPLETED.
Mar 7, 10am - 12.30pm Visioning your neighbourhood: Based on the needs identified in Workshop 1, you will explore and prioritize practical local solutions via fun Coolkit mapping and visioning exercises - COMPLETED.
Mar 14, 10am - 12.30pm Crafting an action plan & empowering others: Guided by your friendly workshop instructors, you will craft, critique, and refine your action plans for neighbourhood climate action. Finally, gain practical skills to become a climate champion and inspire your neighbours - COMPLETED.
REFRESHMENTS PROVIDED!
Online series via Zoom:
Apr 18, 10am - 12:30pm What climate change means in our neighbourhoods, and how it relates to the COVID-19 experience; Mapping vulnerabilities and solutions in your neighbourhood (indoors or outdoors); Visioning your future neighbourhood; Crafting your own climate action plan.
Apr 25, 10am - 11:30 Sharing your action plan with fellow Champs; Receive a Guide for engaging others; Meet the Champs! Hear from experienced climate champions & graduates from the March 2020 Cool 'Hood Champs workshops at Killarney; Earth Day celebration
All workshops are FREE!
All recipients will receive a copy of the Citizen's Coolkit – a fun DIY guide to local action on climate change and urban forestry
Questions? Email Cheryl Ng at cheryl.ng@ubc.ca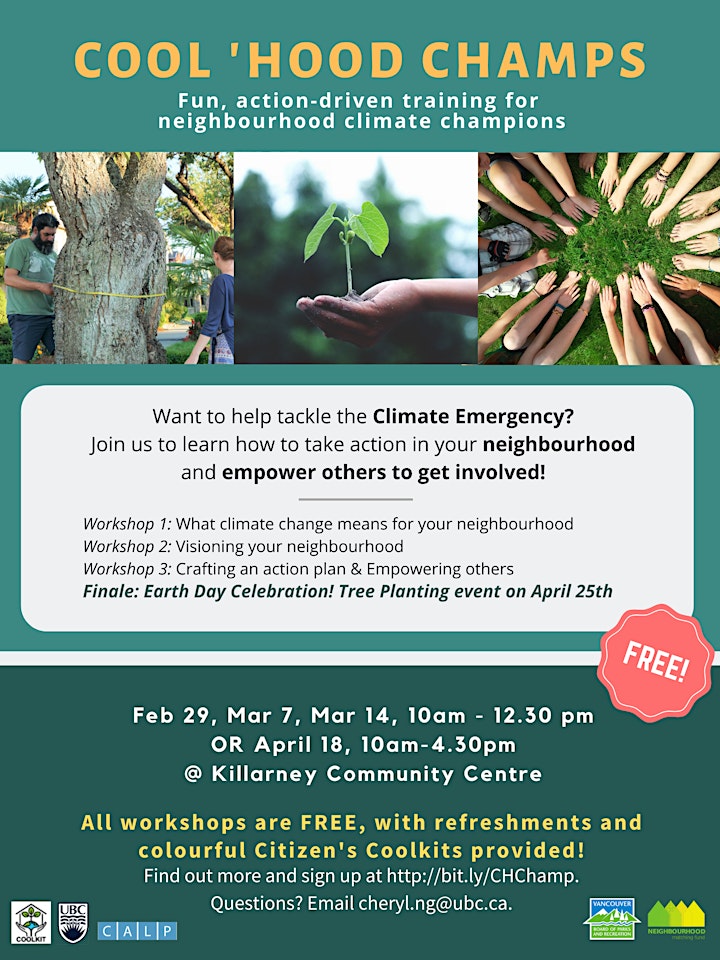 Organizer of Cool 'Hood Champs Program: A workshop to teach Local Climate Action