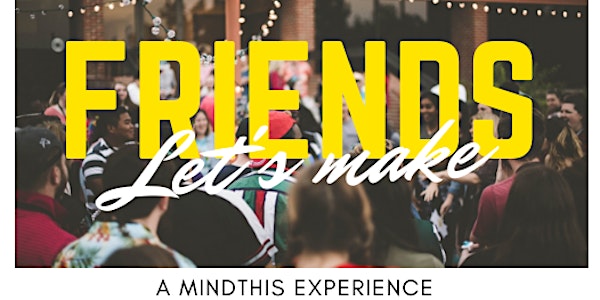 Cool Cats of New York Launch Party in SOHO
When and where
Location
33 GREENE ST, NEW YORK, NY 2W New York, NY 10013
Description
GET YOUR DISCOUNTED TICKETS BEFORE THEY SELL OUT.

Welcome to our first Mindthis Magazine Experience in New York City!
Prepare yourself to learn, grow, and be inspired to help us end loneliness in our city. It's hard making new friends in adulthood, moving to a big city can be intimidating, and nothing feels worse than being surrounded by millions yet still feeling lonely.

That's why you're invited to join an intimate group of 30 young professionals from all backgrounds who are eager to meet new people and genuinely bond. Please check your ego and business cards at the door as this is not a networking event with overcrowded bars and overbearingly loud music and shity finger food.
Instead, enjoy a panel discussion on friendships and 3 interactive breakout sessions led by folks who will walk us through some tips on how to make friends, bond with strangers, and not contribute to isolation. Located in a beautiful SOHO loft, we're keeping the event to a max of 30 people to ensure we all have chances to learn a bit more about each other. There will be tasty food in a buffet style layout with vegetarian and halal options, catered by a local joint.

Major Ground Rule: Do not bring a plus one as a crutch. You need to hang and talk with strangers and get out of your comfort zone. Please be open minded and listen before speaking with others. No mansplaining will be allowed at the event.

Dress Code and Media: Dress as you wish! Sweatpants to Suits and everything in between. The average person will be "dressed nicely". Just make sure you have enough space to eat all our tasty food. Photographers may be present. All media created / captured within the event is owned by Mindthis Media.
Please arrive at 6 pm sharp. There will be a waiting list for those who could not secure a ticket right away.