Description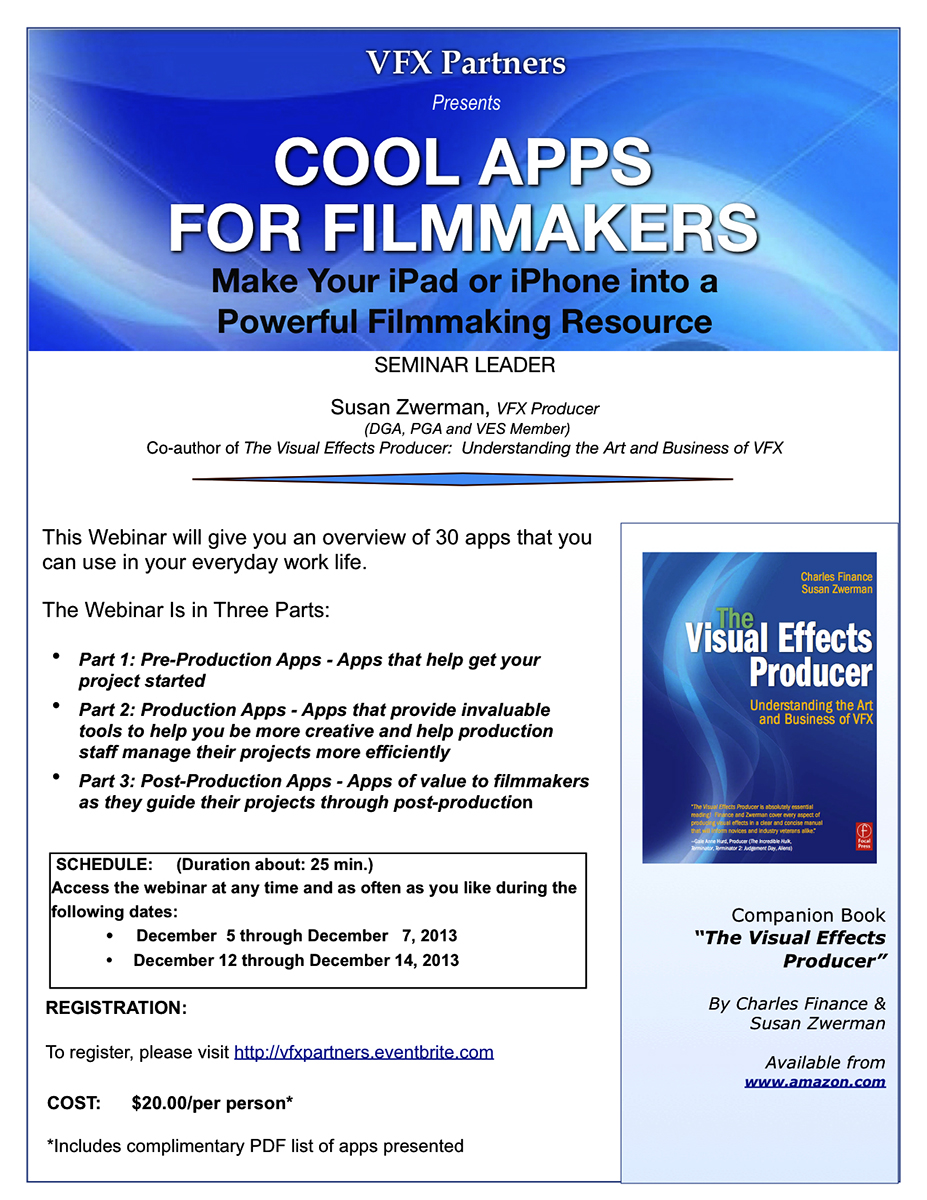 NO REFUNDS
Organizer of COOL APPS FOR FILMMAKERS
COOL APPS FOR FILMMAKERS
Whether you're a director, UPM, AD, or an up-and-coming filmmaker, you're sure to find these carefully selected apps invaluable in your everyday work life as a filmmaker.  This streaming webinar of  30 apps lasts about 25 minutes and is divided into three parts:
Part 1: Pre-Production Apps
Part 2: Production Apps
Part 3: Post-Production Apps
You can access and view the webinar as many times as you like during the scheduled days. No timetable to tie you down, no worries about missing out on a part because of an untimely interruption. Just pick up where you left off. And as a special bonus, you will be able to download a PDF list of all the apps we discuss in the webinar.    
REGISTER NOW!
To order our book
"The Visual Effects Producer: Understanding the Art and Business of VFX"
go to www.amazon.com
"The Visual Effects Producer" is absolutely essential reading!  Finance and Zwerman cover every aspect of producing visual effects in a clear and concise manner that will inform novices and industry veterans alike." 
(Gale Anne Hurd, Producer)
"This indispensable resource for VFX Producers (and would-be VFX producers) is not only user-friendly but jam packed with the information and techniques you'd otherwise learn the hard, painful, and expensive way!"
(Jeffrey A. Okun, VFX Supervisor)
"A must read for all filmmakers and aspiring filmmakers.  The authors have combined wisdom and practicality to produce an extraordinary book that explains the business of producing VFX without losing sight of the art and magic.