Cooking With Love And Spices For A Cause
About this Event
Featuring elegant Indian Cuisine paired with Texan wines from Messina Hof. Messina Hof wines pair well with Indian Food.
We are offering this event during the month of September because September is Hunger Action Month-a month where people all over America stand together with Feeding America and the nationwide network of food banks to fight hunger. It's a month to take the problem of hunger personally, and then be moved to take action on being an active part of the solution to end hunger in our own communities. Our goal for this event is to have fun while raising money to end hunger in Bastrop County.
We welcome you to join us because each day, 10,535 children, adults, and seniors in Bastrop County wonder where their next meal will come from (Map the Meal Gap, Feeding America 2016).
We are very fortunate to have a local vendor sponsor us. The Bastrop Cattle Company produces grass fed, chemical free beef. They have been generous enough to donate the oxtail for the oxtail curry. Oxtail curry is one of Kamini Kapoor's signature dishes.
All funds go directly to the Bastrop County Emergency Food Pantry. Minimum ticket donation is $100. Additional donations are welcome.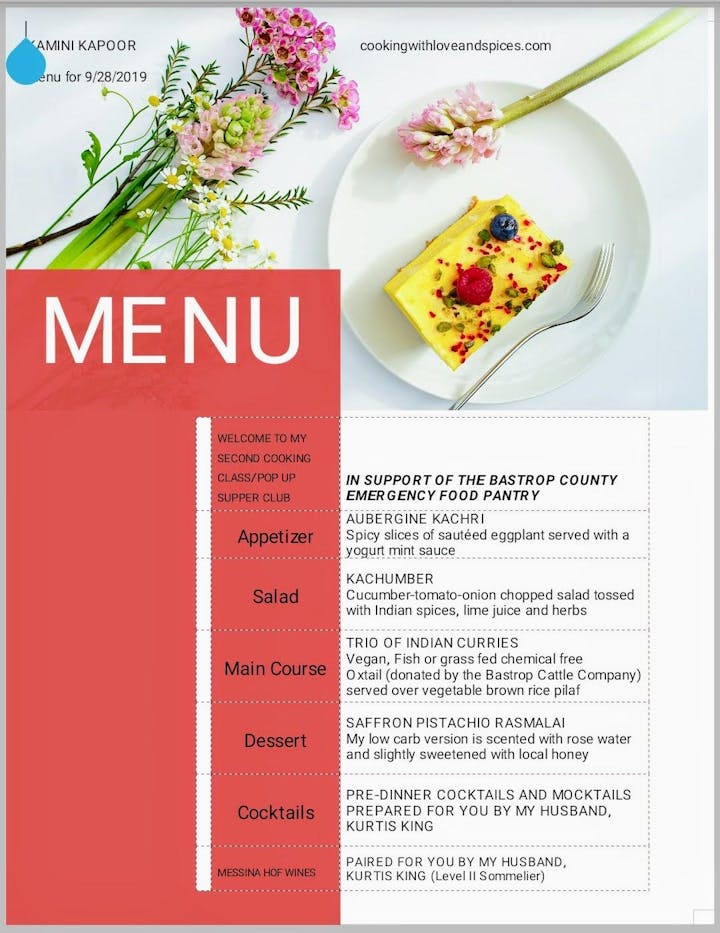 Indian food takes a bit of prep work, so I am doing the event over a 2 day period.
Friday, September 27th will be prep day. We will start prep at 3 pm. Prep is optional for cooking class students who would like to help and also learn a few extra cooking tips.
Saturday, September 28th cooking class will be from noon to 4 pm. Cocktails will be served at 6 pm and dinner will be served at 6:30 pm.
We decided to have a 2 hour break between cooking and cocktails in case anyone wants to take a rest or wants to have time to freshen up before dinner. During my first event, some people requested a break so I am making accommodations for that. In any case, it will give us extra time if we run behind.