Join Hungry Harvest and Chef Manny Baiden of Manny Eats to learn new cooking tips and techniques utilizing fresh fruits and vegetables.
About this event
Join Chef Manny Baiden of Manny Eats as he creates a one-of-a-kind menu inspired by the week's Hungry Harvest box.
For this virtual cooking class, our chefs are two days to create a secret recipe utilizing ingredients from their delivery. Watch what happens live as they unbox and get to cooking with Hungry Harvest.
Attendees will receive recipes and a discount code for their first produce box after the class. Register for free to receive your video link for the class.
Don't miss your chance to interact with one of Richmond, Virginia's favorite chefs while learning about our rescued produce and how Hungry Harvest works to eliminate hunger and food waste.
ABOUT MANNY BAIDEN
Chef Manny moved from Ghana to pursue a degree in Business Management in 2014. He realized pretty quickly that his passion was in hospitality, where he could serve people and see them happy. Cooking was always at the center of that for him. ​
Chef Manny spent the next few years working and interning at restaurants. He learned about wine during a rigorous course in Napa Valley and toured the Michelin-star restaurant, French Laundry, while he was there. He then landed an internship in Hospitality Management in Charlottesville, VA, working both front and back of house to thoroughly understand the operations of hospitality.
Fast forward, and this entrepreneur chef has become one of Richmond's go-to private chefs for events and private dining, making several appearances on Virginia This Morning and serving major clients in the area.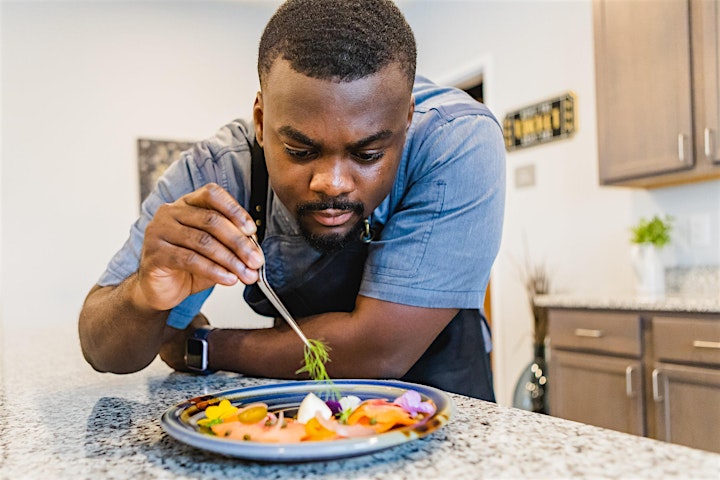 Organizer of Cooking with Hungry Harvest: Manny Baiden of Manny Eats